The Charges Against Sam Bankman-Fried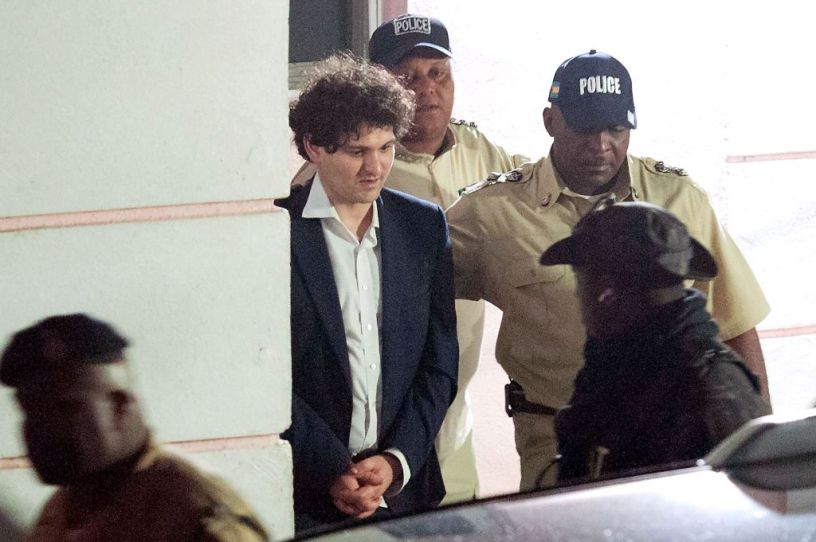 FTX founder Sam Bankman-Fried is led away by officers of the Royal Bahamas Police Force in Nassau, Bahamas. (Photo by MARIO DUNCANSON/AFP via Getty Images)
On Monday night, former FTX CEO Sam Bankman-Fried denied being part of a group chat called "Wirefraud" with other leaders of the bankrupt crypto exchange. Less than a day later, Bahamian police arrested Bankman-Fried after U.S. federal prosecutors indicted him on a bevy of charges—including wire fraud.
Prosecutors from the Southern District of New York announced eight counts on several charges Tuesday: wire fraud and conspiracy to commit wire fraud (against both customers and lenders), conspiracy to commit commodities fraud, conspiracy to commit securities fraud, conspiracy to commit money laundering, and conspiracy to defraud the United States and violate campaign finance law.
FTX collapsed in early November after journalists discovered Bankman-Fried, 30, was using the crypto exchange's assets to prop up Alameda Research, a crypto hedge fund he also founded. Bankman-Fried—also known as SBF—has maintained that he was simply "lazy and disconnected" and "should have done better." Federal prosecutors allege that's not the whole story.
What are the criminal charges against Bankman-Fried?