The Dangers of an 'Angry Pacifism'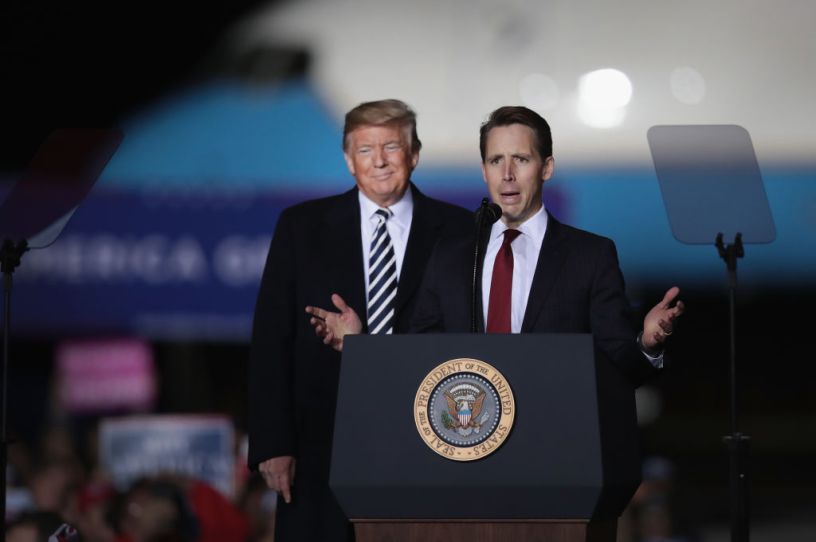 Donald Trump and Josh Hawley at a rally in Columbia, Missouri. (Photo by Scott Olson/Getty Images)
On September 9, 1944, mere days after the liberation of Paris by Allied forces in World War II, one of the most revered English minds of the 20th century penned a warning that looked beyond the immediate conflict toward the unthinkable—a third world war. C.S. Lewis was concerned about a lingering public attitude of apathy that threatened to leave Great Britain ill-prepared for her own defense in the years to come, just as a similar climate had sapped its strength in the age of appeasement in the 1930s.
"We know from the experience of the last twenty years that a terrified and angry pacifism is one of the roads that lead to war. I am pointing out that hatred of those to whom war gives power over us is one of the roads to terrified and angry pacifism. … A nation convulsed with Blimpophobia will refuse to take necessary precautions and will therefore encourage her enemies to attack her."
What did Lewis mean by Blimpophobia? It's an allusion to a popular British political cartoon of that era, centered on the character "Colonel Blimp," which lampooned the stereotypically out-of-touch ruling class that had fallen out of favor with the British public during the 1920s-1930s.
Colonel Blimp is long gone from the editorial pages, but the kind of dangerous stupidity that he represented is alive and well. It is easy to see similarities between Britain's Blimpophobia of the 1930s and 1940s, as described by C.S. Lewis, and the rise of America First today. And many modern American Colonel Blimps continue to out themselves in their public statements regarding the war in Ukraine, which is now a year old.
Keep reading with a free account
Create a free Dispatch account to keep reading
Get Started
ALREADY HAVE AN ACCOUNT? SIGN IN