The Daunting Task the New China Committee Faces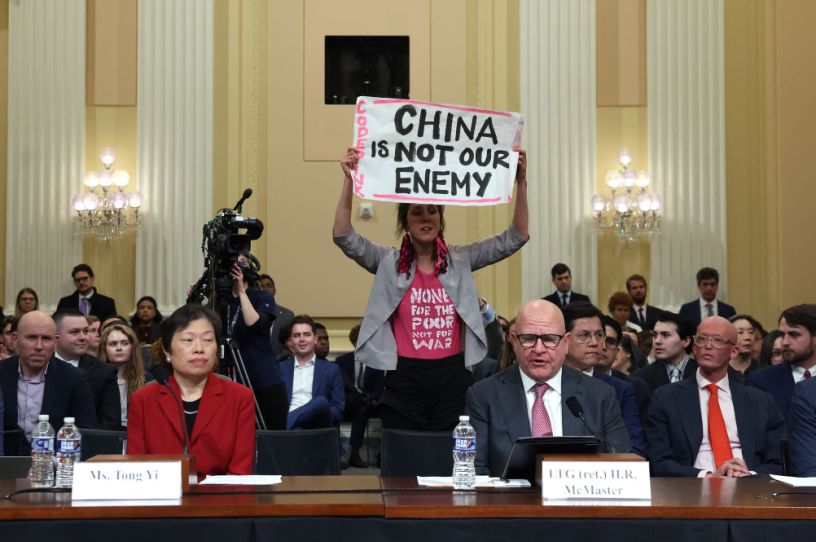 A protester disrupts the first hearing of the House Select Committee on Strategic Competition between the United States and the Chinese Communist Party as Lt. Gen. H.R. McCaster testifies alongside human rights activist Tong Yi. (Photo by Kevin Dietsch/Getty Images)
Watching the first hearing of the House's new select committee on competition with the Chinese Communist Party was like drinking from a firehose.
For three hours on Tuesday night, lawmakers and witnesses discussed human rights abuses, genocide in Xinjiang, forced labor legislation, Taiwan, TikTok, spy balloons, trade deficits, COVID-19, intellectual property theft, agricultural land purchases, anti-Asian discrimination, U.S. business investments in China, currency manipulation, America's military posture in the Indo-Pacific, rare earth minerals, climate change, electric vehicles, fentanyl, global Chinese influence operations, trade agreements in southeast Asia, and the CCP's vast regime of internet censorship and surveillance.
And that's far from an exhaustive list.
The committee's first hearing was designed to raise awareness about the issues within the panel's purview and to set the stage for its future work. But the hearing's vast scope makes clear how much work this committee has ahead of it—and raises questions about just how effective the new panel can be.