The Plight of the NFL Running Back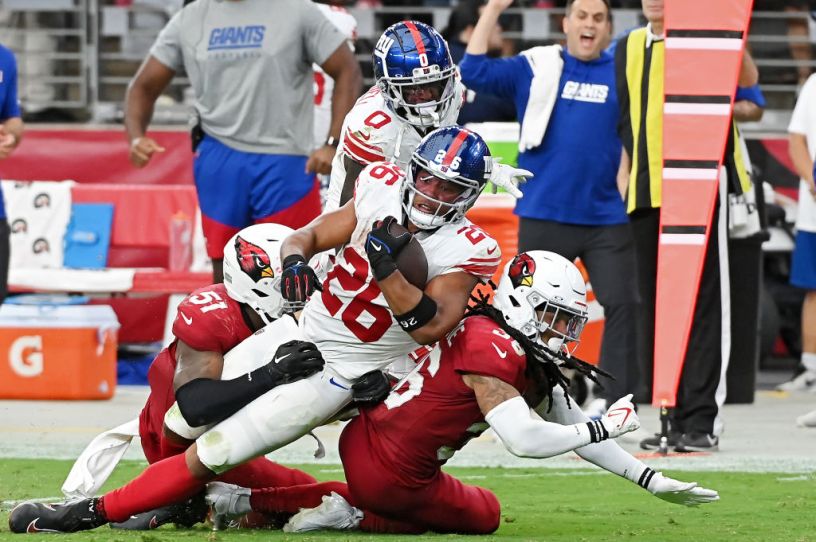 Saquon Barkley of the New York Giants runs the ball during the fourth quarter against the Arizona Cardinals at State Farm Stadium on September 17, 2023, in Glendale, Arizona. (Photo by Norm Hall/Getty Images)
Last month, the Detroit Lions unveiled a statue of their star running back from the 1990s, Barry Sanders, outside the team's stadium. It's hard to imagine a running back from recent decades—from any team—receiving such an honor. An electrifying back, the Hall of Famer competed in an era when running backs were among the most important players on an NFL squad. From 1990 through 2000, a running back won the AP's most valuable player award five times. It's happened only three times since then, most recently in 2012. In the meantime, their compensation has been drastically outpaced by players at other positions.
While their pay has not kept pace, running backs play arguably the most brutal position in a violent sport, leaving them damaged goods in the eyes of general managers when it comes to a second contract. No matter their talent or how many yards they rack up, it doesn't matter when it comes to dividing up the NFL cash pie; they get the table scraps.
During the offseason this year, running backs' pay gripes took center stage, as stars like Saquon Barkley and Josh Jacobs threatened holdouts before accepting basically what had been on the table previously. Top quarterbacks make more than $50 million a year, and leading wide receivers and defensive ends hit nearly $30 million annually. The best running backs, meanwhile, are lucky to clear $10 million. But that's just the stars. The average NFL running back made $2.2 million in 2022, well behind quarterbacks ($6.25 million) and squarely between place kickers ($2.95 million) and punters ($1.65 million).
A group of running backs, including Barkley and Jacobs, hosted a call among themselves and with the NFLPA this summer to no avail, and the NFL filed an arbitration grievance against the union for seeming to suggest RBs should feign injury to make a contract point.
You're out of free articles
Create an account to unlock 1 more articles