The Power of Primary Debates, Explained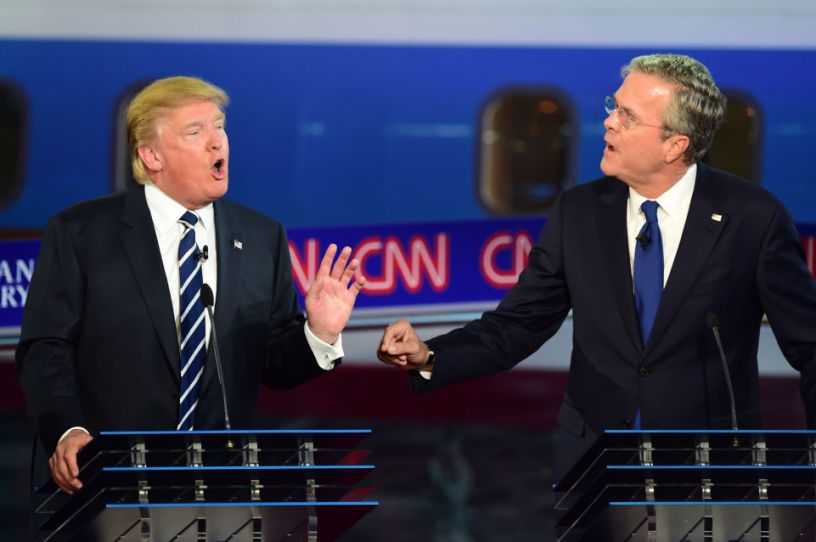 Then-candidate Donald Trump and former Florida Gov. Jeb Bush during the second GOP presidential debate at the Ronald Reagan Presidential Library in Simi Valley, California on September 16, 2015. (Photo credit should read FREDERIC J. BROWN/AFP via Getty Images)
Travel back to the last Republican presidential nominating contest eight years ago, and you'd find former Florida Gov. Jeb Bush leading the pack of candidates. Pundits pegged him as the clear favorite, with political strategist Greg Valliere giving him a 50 percent chance to secure the nomination, followed by a 25 percent chance for Wisconsin Gov. Scott Walker, a 20 percent chance for Florida Sen. Marco Rubio, and a 5 percent chance for "someone else." Turns out "someone else" was Donald Trump, who dominated the first primary debate a few weeks later.
Now Trump is the clear frontrunner. Could the upcoming primary debates change the outcome of this contest too?
Do primary debates matter?
Presidential debates between the nominees of the country's respective parties are perhaps the most hyped events of each campaign, but experts generally believe that primary debates—which come first but draw fewer viewers—actually do more to move the electoral needle.