The Speakership Stalemate Continues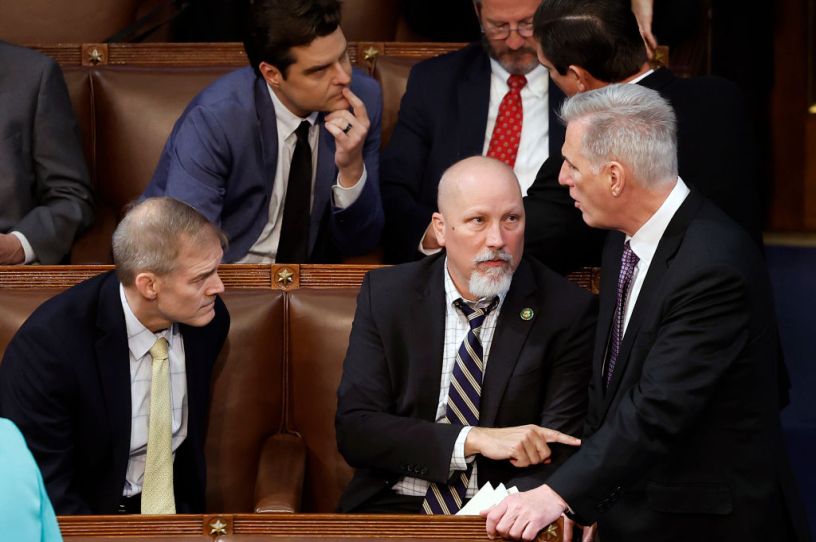 House Republican Leader Kevin McCarthy talks to Reps. Chip Roy and Jim Jordan Wednesday. (Photo by Anna Moneymaker/Getty Images)
The nominating speeches sounded different, but the facts on Wednesday remained the same as on Tuesday: After three failed votes, House GOP leader Kevin McCarthy made no apparent progress toward garnering the 218 votes he needs to become speaker of the House.
With no endgame in sight and the protracted stalemate wearing on House Republicans' nerves, some McCarthy allies began to signal Wednesday that a deal has to come soon or McCarthy may have to step aside.
"At some point this needs to break loose," Rep. Ken Buck said on CNN. "He either needs to make a deal to bring the 19 or 20 over, or he needs to step aside to give somebody the chance to do that."
The pressure led McCarthy to make at least one major concession to his critics Wednesday night: The Congressional Leadership Fund, a McCarthy-aligned super PAC, agreed not to boost candidates in open primaries in safe Republican districts. The move could prove a major boon to hardline conservatives who want GOP leaders to take a hands-off approach in Republican primaries.