The Two Types of Congressional Conflict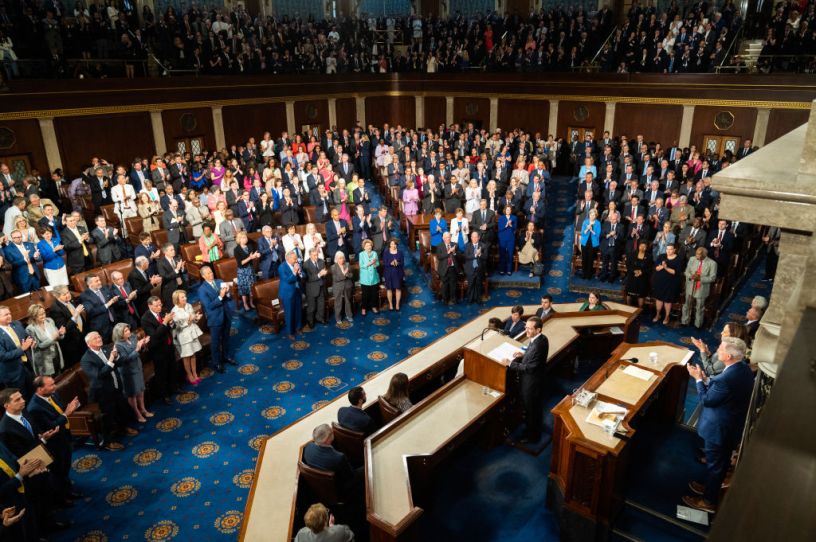 Joint meeting of Congress in the U.S. Capitol on July 19, 2023. (Tom Williams/CQ-Roll Call, Inc via Getty Images)
Being a defender of the U.S. Congress isn't always easy. When I tell people that I study the first branch of government for a living, their response is often, "I'm sorry." As Rep. Derek Kilmer—himself a vigorous advocate for a healthy legislative branch—once noted: Congress is less popular than "head lice and Nickelback."
Yes, the House and Senate don't always make it easy to advocate on behalf of the institution, and not only because of objectionable individual behavior or their difficulty completing fundamental responsibilities of governing. It's also because when the White House is occupied by a co-partisan president, members of Congress themselves increasingly call for executive action.
It's a bipartisan activity. "I don't want anyone to think that we believe executive action is better than legislation," argued Rep. Pramila Jayapal, chair of the Congressional Progressive Caucus, in 2022. But she added, "Certainly there are a lot of areas where a) if we don't get legislation, the administration can take action, and b) the administration can take action to help move us more quickly towards the goals that we're working on." Similarly in 2019, Rep. Mark Meadows, who at the time chaired the House Freedom Caucus and lamented the amount of funding a spending measure allocated for a barrier on the southern border, tweeted that "At this point it's clear: POTUS should take executive action."
It's not hard to understand why members make these appeals to the executive branch. Divisions between the parties are high, and divisions within them, though smaller, are also consequential. Majorities are frequently narrow, and the policy problems facing the country are significant. These challenges make it harder for some to see why we should value Congress as an institution.