Three Dates That Will Shape Politics Through 2024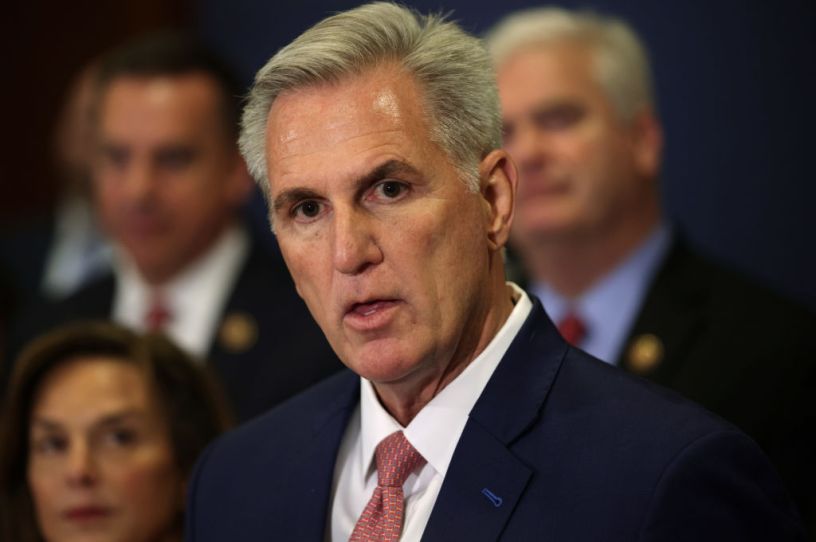 House Minority Leader Kevin McCarthy. (Photo by Alex Wong/Getty Images)
The coverage of the vote for House speaker set to take place in five weeks is beyond obsessive. But it's easy to understand why.
Rep. Kevin McCarthy is a figure of something between contempt and disgust for almost all Democrats and some Republicans. The bipartisan consensus against McCarthy creates lots of appetite for stories about his desperate pandering, strategy around the vote, the disaster scenarios for the California Republican, and, most intriguing for the left, the possibility that the radical Republicans who are so enjoying torturing McCarthy could overplay their hand and end up tipping control of the gavel to a moderate.
The Republican House majority is probably going to end up being only five seats deep. The GOP has won in 220 districts, and leads—barely—in the last two contests that still aren't called as of this writing. That means that McCarthy will only be able to afford, at most, four defections and still get the 218 votes he needs to become speaker when the new Congress convenes. Given the 31 MAGA members who sided against him in the internal party vote for leadership posts and their subsequent taunting, it's impossible to see right now how McCarthy wins on the first ballot. For context, when Paul Ryan cruised to the speakership in 2015, nine out of 245 Republicans voted against him. The GOP caucus is much smaller and more radical than it was then.
Beyond the political interests of Democrats and pro-Trump Republicans like those in the House Freedom Caucus, there's another reason that the first vote of the 118th Congress on January 3 is getting such excessive coverage: It's just good copy. McCarthy is a Shakespearian figure. The gossipy details of his failed 2015 bid added intrigue, but it has been his Mark Antony-like contortions in pursuit of power that have made McCarthy such a figure of fascination. What becomes of a man whose need for power leads him to such self-abasement when he finally obtains what he has coveted? What would become of him if he failed again?