Tim Scott's a Good Guy. But Is That Enough?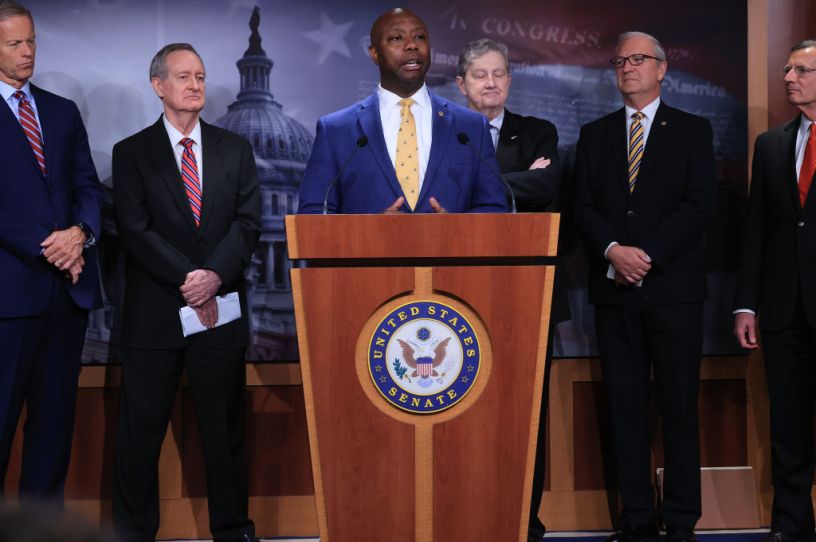 Sen. Tim Scott joins fellow Republican senators, including Sen. John Thune, Sen. Mike Crapo, Sen. John Kennedy, Sen. Kevin Cramer, and Sen. John Barrasso for a news conference at the U.S. Capitol on October 19, 2021 in Washington, D.C. (Photo by Chip Somodevilla/Getty Images)
Everybody loves Tim Scott. The senator was reelected in South Carolina last year by a resounding 26 percentage points, and he consistently scores among the most likable in the GOP presidential primary field.
In this week's Iowa Poll, for example, his net favorability rating among likely caucusgoers was +38 percent, better than Donald Trump's +35 percent, Nikki Haley's +30 percent, and Vivek Ramaswamy's +6 percent. His job over the next 75 days, according to the senator's campaign, is to convince Iowa voters who like him that they should also caucus for him. He's got a lot of ground to make up, though, currently trailing Trump by an average of 43 points in the Hawkeye State.
As well-liked as Scott is in Iowa, he's arguably even more popular in the Senate. In conversations with The Dispatch this week, a number of his Republican colleagues there were effusive in their praise of the 58-year-old South Carolinian. To Sen. Ted Cruz of Texas, Scott is "a great guy and a good friend." To Sen. Rick Scott of Florida, he's "a smart guy." Sen. Tommy Tuberville of Alabama labeled Scott "a good guy," and Sen. Pete Ricketts of Nebraska thinks he's "a great guy."
But while GOP senators love him, many are beginning—gently, with plenty of love—to suggest that Scott's path to the White House isn't viable, as Trump continues to dominate polls and Haley, his fellow South Carolinian, appears ascendant in Iowa.
You're out of free articles
Create an account to unlock 1 more articles