U.S. Oversight of Ukraine Aid, Explained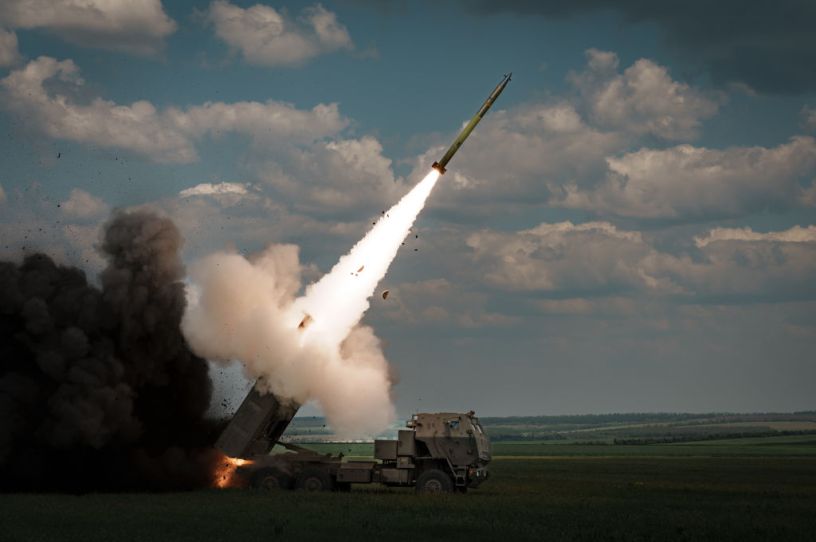 An M142 HIMARS launches a rocket on May 18, 2023, in Donetsk Oblast, Ukraine. (Photo by Serhii Mykhalchuk/Global Images Ukraine via Getty Images)
President Joe Biden has declared the United States will support Ukraine in its war against Russia "for as long as it takes as it defends its sovereignty and territorial integrity." But how any aid sent to Ukraine is appropriated, spent, and regulated is a convoluted and controversial procedure.
Since August 2021—following Russia's initial military buildup along the Ukrainian border—the United States has provided $76.8 billion in aid to Ukraine, according to Kiel Institute for the World Economy. Of that, 61 percent ($46.6 billion) is military aid, 34 percent ($26.4 billion) is economic aid, and the remaining 5 percent ($3.9 billion) is for humanitarian aid.
But whether to send more has been a source of friction between some congressional Republicans and the Biden administration, and some Republicans are calling for more clarity on what costs Biden is willing to incur for "as long as it takes." On November 3, the Biden administration announced new security assistance for Ukraine, totaling $425 million in previously allocated money. The administration is using the Presidential Drawdown Authority to send $125 million worth of inventory from Department of Defense stockpiles and allocated $300 million in Ukraine Security Assistance Initiative Funds to provide laser-guided munitions, which would exhaust the latter.
What is Presidential Drawdown Authority?
You're out of free articles
Create an account to unlock 1 more articles