What About Jewish Nationalism?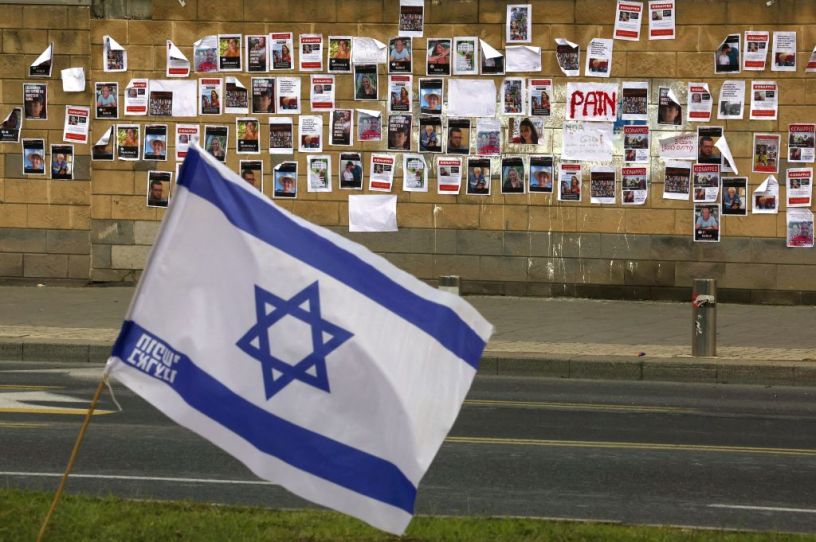 The Israeli flag with a wall plastered with images of Israeli hostages in the background, outside the Ministry of Defense in Tel Aviv on October 16, 2023. (Photo by Ahmad Gharabli/AFP/Getty Images.)
Over the past few years, I've regularly argued against nationalism, especially Christian nationalism. I don't think it's any government's business to enforce a specific cultural template at the point of law. But one question remained: If Christian nationalism is wrong, what about Jewish nationalism?
The validity of nationalism isn't really at stake in the Israel-Hamas war for the same reason it isn't at stake in the Ukraine war. Defending your country against invasion or attack isn't "nationalism;" it's just self-defense. You can fight for your country without buying into a political ideology about the role of government and its relationship to culture. After all, Israel is a pluralistic nation: Non-Jewish Israeli Arabs, some of whom were among those killed by Hamas' attack on October 7, make up 20 percent of its population. Israel's right to self-defense is a right that belongs to Israeli Arabs as much as Israeli Jews.
Nonetheless, Hamas' attack on Israel is a fresh reminder, if any was needed, of Israel's right to exist and of the reasons that originally inspired the Zionist project of establishing a homeland for persecuted Jews worldwide. And so it is a fair question. For critics of nationalism like me, is Israel allowed to exist as a specifically Jewish state? If yes, does that contradict my argument against nationalism?
I suggest three ways of defending Israel's Jewish identity. The first is to consider national languages. "The ability to speak to one another and communicate in the public square is an important prerequisite to a shared political endeavor," I argued in my book, The Religion of American Greatness. Israel defines itself as a Hebrew-speaking state, which heavily predisposes it to sustaining a Jewish identity. All well and good and entirely consistent with my argument against nationalism.
You're out of free articles
Create an account to unlock 1 more articles