What the 'America First Caucus' Debacle Revealed About Marjorie Taylor Greene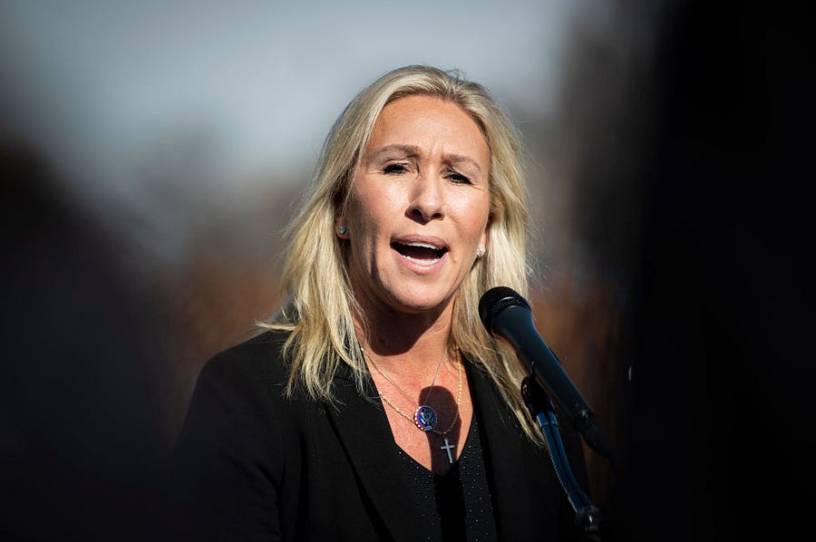 Marjorie Taylor Greene was readying her assault, like that legendary Anglo-Saxon warrior Canute the Great at Assandun. The QAnon-friendly first-term Georgia congresswoman, who was banned from any committee assignments shortly after she was sworn in, was poised to launch her "America First Caucus" with Arizona Rep. Paul Gosar, an anti-Semitic conspiracy theorist so odious that his siblings cut an ad in 2018 endorsing his opponent.
They were going to be legends. But they turned out to be "cucks," an insult that crowd loves to use.
Punchbowl News got ahold of the "America First Caucus Policy Platform," a seven-page document detailing what these modern-day Knights of the Round Table would fight for. Contrary to a lot of the hysteria, it doesn't read like Mein Kampf or The Protocols of the Elders of Zion. It reads more like what Greene said it was—a "staff-level draft proposal" based on some Trumpian boilerplate.
Most press accounts focused on two passages as proof the American First Caucus was soaked in white supremacy. First, America should have an immigration policy consistent with "common respect for uniquely Anglo-Saxon political traditions." Second, our infrastructure should reflect "the architectural, engineering and aesthetic value that befits the progeny of European architecture."