Where Does the Pro-Life Movement Go From Here?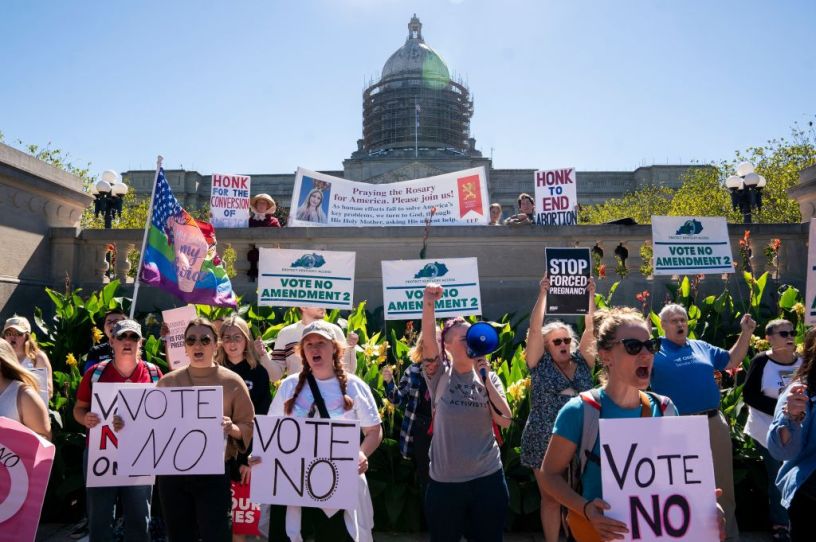 Pro-life and pro-choice protesters in front of the Kentucky state capitol on October, 2022. (Photo by Stefani Reynolds / AFP via Getty Images.)
The Supreme Court's June decision in Dobbs v. Jackson Women's Health was a moment of pro-life jubilation, the culmination of decades of focused activism against the legal abortion regime of Roe v. Wade. But now members of the anti-abortion movement are grappling with whether their greatest legal triumph led to political defeat in this week's midterms.
With historical trends and a curdling economy suggesting that Democrats could face historic losses, Team Blue made a risky bet on abortion rights. In October, abortion-related ads amounted to nearly half of all Democratic spending nationwide, nearly triple the amount they spent on the second-biggest issue (crime).
It worked. As Democrats turned out across the country in greater-than-expected numbers, exit polls suggested the number one issue on their mind was abortion. One particularly striking exit poll result from Pennsylvania—where Democratic Lt. Gov. John Fetterman defeated Republican Mehmet Oz in a race for Senate despite having not fully recovered from a life-threatening stroke—found abortion to be the biggest issue among all voters, edging out inflation 36 percent to 29 percent.
"Democrats' enthusiasm this cycle is clear—and directly related to Republican overreach on abortion rights," Yasmin Radjy, the former national political director of Planned Parenthood Action Fund who now serves as executive director of progressive volunteer organization Swing Left, told The Dispatch Tuesday night. "At Swing Left, our grassroots volunteer signups reached 2018 surge levels right after the Supreme Court's decision on Dobbs."
You're out of free articles
Create an account to unlock 1 more articles