Will Donald Trump Attack the Legitimacy of the Supreme Court?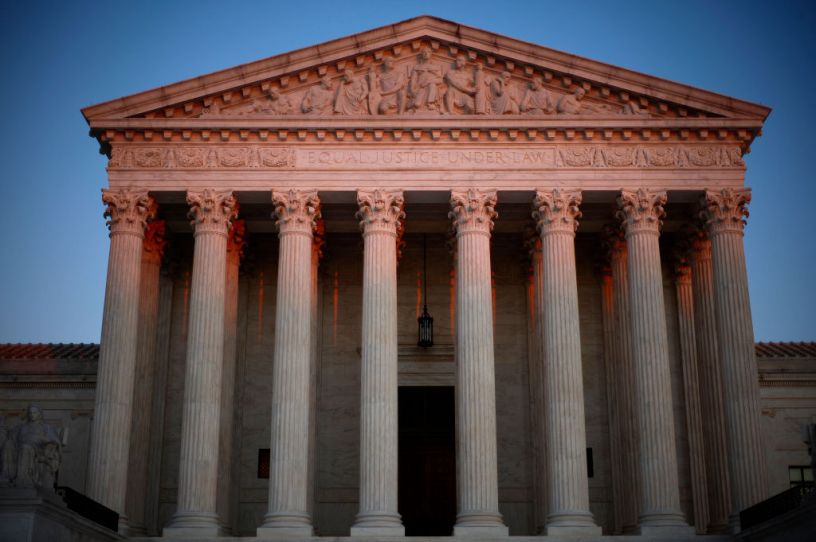 The Supreme Court building on January 26, 2022, in Washington, D.C. (Photo by Chip Somodevilla/Getty Images)
"Horseshoe theory" describes the phenomenon in which political extremes on each side may converge on similar views. Some time over the next year, we can expect to see former president Donald Trump converge with zealous progressives on a now-familiar theme: The Supreme Court is a corrupt and even illegitimate body, and no particular respect is owed to its rulings.
Calling a judicial institution illegitimate implies something far beyond merely that it arrives at bad rulings, is poorly administered, or includes some officeholders who fail to live up to their duties. "The term signifies something absolutely without foundation and perhaps ultra vires," a Harvard Law Review author noted recently. "So when a government institution or organization lacks legitimacy, it may no longer be worthy of respect or obedience."
That makes it significant how many prominent progressives—including senators, leading law professors, and former Attorney General Eric Holder—have called the high court's legitimacy into question.
And where respectable commentators have been willing to go, we should not be surprised to find informal popular influencers joining them. Zack Beauchamp, writing from the left in Vox, and Charles Sykes, from the center-right in The Bulwark, have rounded up examples, from columnists to ex-officials.