Will Iran Goad Hezbollah Into War with Israel?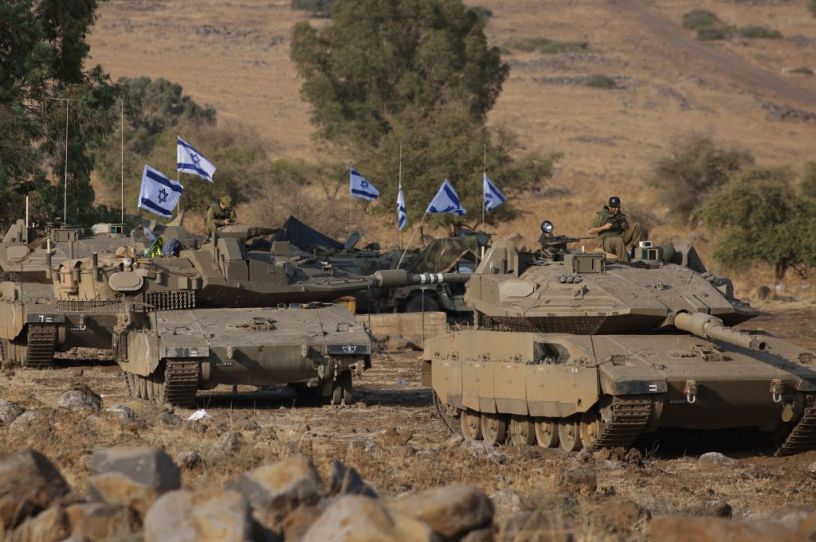 Israeli Merkava tanks are positioned in the upper Galilee in northern Israel near the border with Lebanon on October 11, 2023. Israel appears to be readying for a possible ground invasion of Gaza, but faces the threat of a multi-front war after also coming under rocket attack from militant groups in neighbouring Lebanon and Syria. (Photo by Jalaa Marey/AFP/Getty Images)
On Wednesday, air raid sirens forced thousands in northern Israel into bomb shelters. It turned out to be a false alarm, but the fears were warranted. While Israel contends with Hamas to the south, any escalation in tensions between Israel and Lebanon-based Hezbollah all but guarantees the IDF would be fighting a multifront war against two Iran-backed terror organizations in the coming days and weeks.
More than 1,200 Israelis have been killed by Iran-backed Hamas terrorists since Saturday, the bloodiest episode in Israel's history. The Wall Street Journal reported—and the Washington Post confirmed—that the regime in Iran funded, trained, and equipped Hamas, reportedly approving this operation a week ago. There are now reports that Iran is pressuring Hezbollah to attack Israel from Lebanon, attempting to engage Israel in a multifront war against two parts of Iran's terror network.
Hezbollah is the most formidable, claiming to have 100,000 fighters. While Israel believes the number is significantly lower, many Hezbollah fighters have been battle-hardened over the past decade fighting in Syria. It is also the most heavily armed nonstate actor in the world. Its arsenal of 150,000 rockets in southern Lebanon—most of which are buried under civilian infrastructure—includes hundreds of precision guided missiles (PGM's) that can hit a target with an accuracy of within 10 meters.
According to Israeli Defense Minister Yoav Gallant, Iran provides $100 million annually to Hamas and $700 million to Hezbollah. Iran has convened Hamas and Hezbollah leaders repeatedly in the past year, resolving to increase cooperation to attack Israel. Given Iran's huge investment and close ties with the Lebanese terror organization, it is unclear how long Hezbollah can resist Tehran's call to fully engage in the ongoing war.
You're out of free articles
Create an account to unlock 1 more articles