Canceling Monsters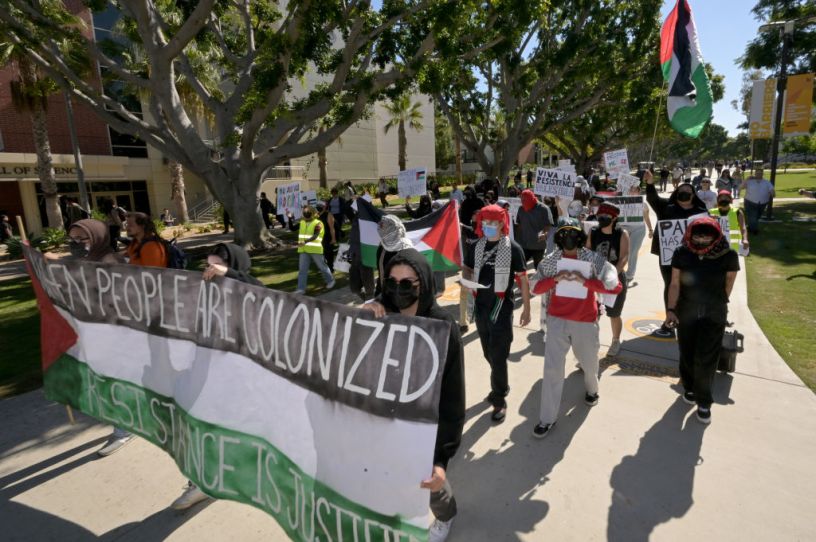 Students at California State University, Long Beach stage a Day of Resistance protest for Palestine on October 10, 2023. (Photo by Brittany Murray/MediaNews Group/Long Beach Press-Telegram via Getty Images)
If you want to make a lawyer shiver, walk up to one and say the words "balancing test."
It never fails. I encourage attendees at the next Dispatch event to try it on Sarah Isgur and see. I haven't practiced law in 20 years and I still tense up when the phrase is used.
In legalese, the opposite of a balancing test is a bright-line rule. Lawyers like bright-line rules because they're clear, and clarity makes advising clients easy. A famous example is the holding in Miranda v. Arizona: If a criminal suspect in police custody isn't advised of his right to remain silent before confessing, his confession isn't admissible in court.
Simple. Clear. There's the line; don't cross it.
On the other end of the jurisprudential spectrum is—deep breath—a balancing test. Instead of drawing a line, courts balance competing interests against each other and just sort of … intuit the relative weight and merits of each. The average test will include a framework of "factors" to guide the analysis, providing a simulacrum of intellectual rigor. But in practice, a balancing test gives the judge enormous leeway to arrive at whatever ruling he or she likes. Reasonable people applying balancing tests can—and routinely do—reach different yet perfectly reasonable conclusions about how the interests at stake balance.
Balancing tests are the enemy of clarity, and thus the bane of lawyers. They're neither simple nor clear. But that's life for you; it's messy.
Which brings us to the messy business of Hamas and its many Western admirers who've spent the last five days end-zone-dancing over headless infants. What consequences, if any, should they suffer for their ghoulishness?