Gunning for Trouble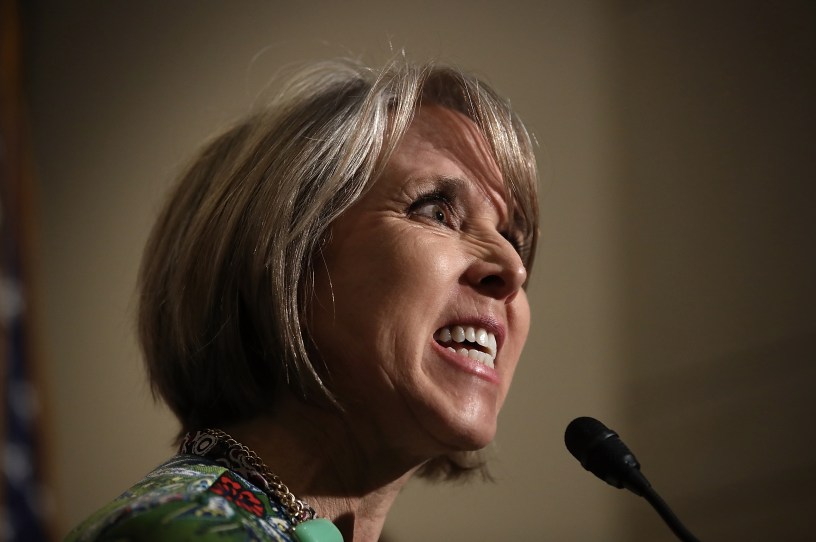 Then-Rep. Michelle Lujan Grisham (D-NM), chairwoman of the Congressional Hispanic Caucus, delivers remarks following a meeting between U.S. Secretary of Homeland Security John Kelly and members of the Congressional Hispanic Caucus at the U.S. Capitol March 17, 2017 in Washington, DC. Grisham was elected governor of New Mexico in 2018. (Photo by Win McNamee/Getty Images)
On an episode of The Remnant last week, Jonah Goldberg and Tom Nichols had a friendly argument.
Why is it, Jonah asked, that a subset of anti-Trump conservatives have embraced the Democratic agenda whole cloth? Nicolle Wallace, Jennifer Rubin—you know the type. They made their names as right-wingers yet now side with liberals so reliably in any dispute with the GOP as to be indistinguishable from the "Resistance" leftists they're aligned with.
Nichols isn't part of that group (he wrote critically of Joe Biden's preposterous student debt forgiveness plan, he reminded Jonah) but he's a fellow traveler insofar as he's committed to voting for Biden over Trump next year. The threat Trump poses to America's institutions is so dire, Nicholas reasoned, that as a patriot he has no choice but to support the one party capable of defeating it.
Okay, Jonah replied, but why not use the leverage you've gained as a member of the Democratic coalition to drag it toward the center? If anti-Trump conservatives still prefer right-wing policies on balance to left-wing ones, they should press their new party to adopt some of those policies as it evolves.