Kevin's House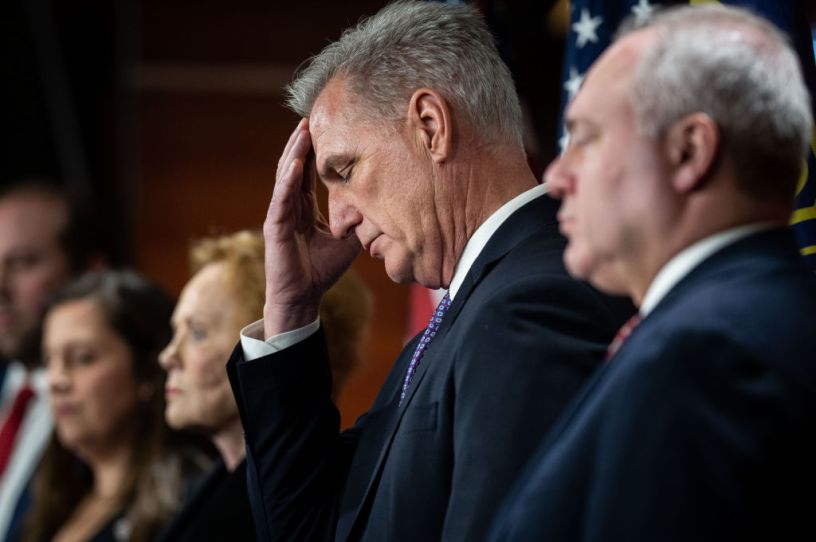 Rep. Kevin McCarthy at a news conference on December 14, 2022, in Washington. (Photo by Kent Nishimura / Los Angeles Times via Getty Images.)
I rise to defend Kevin McCarthy from Liz Cheney. And from my boss.
If reading that felt awkward, imagine how it felt to write it.
When two honorable conservatives point the finger at one of America's least honorable politicians, the rooting interests are clear. In a party teeming with amoral opportunists, McCarthy is the supreme specimen. He dreamed for years of being speaker of the House, and as the right's populist revolution turned the GOP into a party by and for demagogues, he undertook to make whatever moral compromises were necessary to protect his ambition.
Many others have done the same, but few did so with such gusto to have earned a nickname from Donald Trump reflecting Trump's sense of personal ownership.
Never once has McCarthy betrayed a hint of ambivalence about it. He's the very model of an unprincipled careerist sellout. If Liz Cheney is matter, "My Kevin" is antimatter.
So her contempt for him is natural, and would have been natural even if McCarthy hadn't led the coup within the House Republican conference that ousted Cheney from her place in leadership. On Sunday she appeared on Face the Nation to comment on the ongoing fiasco within the House GOP majority and to lay blame for it at McCarthy's feet.
"This is correct," The Dispatch's own Steve Hayes tweeted about Cheney's comments.
Is it?