Shellshock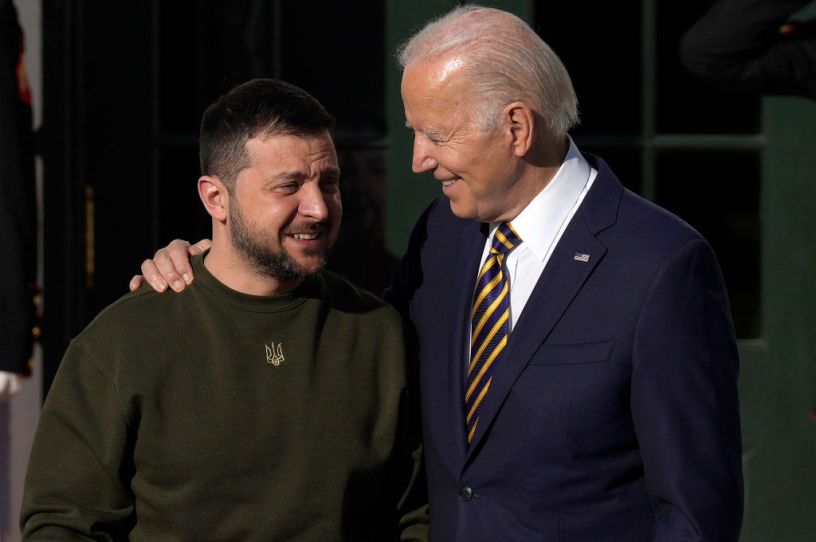 President Joe Biden welcomes Ukrainian President Volodymyr Zelensky to the White House on December 21, 2022 in Washington. (Photo by Drew Angerer/Getty Images)
There's a world in which everything breaks Joe Biden's way next year and he wins reelection easily. One can imagine it, with effort.
Imagining a world in which things go sideways for him is easier, though, and not just because worst-case scenarios come more naturally to a pessimist like me than best-case scenarios do. His liabilities should be apparent even to the optimists among us: The economy could slide into recession, House Republicans could deliver the goods on family corruption, the old man could suffer an "episode," or any combination of the above.
His job approval stands at 41.2 percent, lower than Donald Trump's approval on this date four years ago. Already, there isn't much margin for error.
The state of the war in Ukraine looks poised to shrink that margin even further.
"Silly pundit," you reply, "voters don't care about foreign policy. Not unless their own sons and daughters are fighting and dying somewhere." That's basically true, enough so that I doubt an unsatisfying outcome on Ukraine's battlefield would cost Biden reelection in and of itself. If his health holds up, if the economy keeps growing, if the Hunter scandal remains a Hunter scandal, a stalemate in America's proxy war with Russia probably isn't enough to get a twice-impeached, four-times-indicted putsch enthusiast elected instead.
But if the president's other liabilities start to weigh him down, Ukraine strikes me as an issue that some conflicted "double haters" might seize as a "tipping point" to justify handing Trump another term.
Get every newsletter and all of The Dispatch. Support quality, fact-based journalism.
Start Your Free Trial
ALREADY A PAID SUBSCRIBER? SIGN IN