The Politics of the SVB Bailout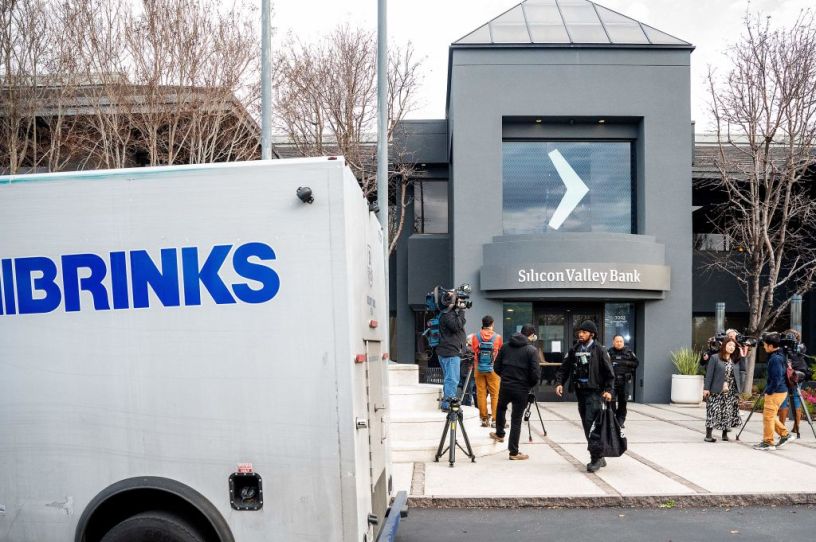 A Brinks truck makes a stop at Silicon Valley Bank's headquarters in Santa Clara, California, on March 13, 2023. (Photo by Noah Berger/AFP/Getty Images.)
On Friday I wrote about one of the many implied warranties of punditry. Today I open with another, that the sage columnist is reasonably learned in all facets of policy and can comment insightfully on them as required.
That warranty will be breached in the matter of Silicon Valley Bank's failure, I'm afraid.
If you want a detailed account of what happened and somehow missed one of the dozens of explainers published across American media this weekend, The Morning Dispatch will serve you better than I can. If you want something deeper in the weeds I recommend the latest column from Bloomberg's Matt Levine, one of the few people in America who writes entertainingly about finance.
The basic basics: Over the years SVB piled up a mountain of cash via deposits from tech startups (disclaimer: including The Dispatch) and chose to invest an uncomfortably large share of it in long-term Treasury bonds. A few years ago, that strategy made sense—sort of. Short-term treasuries were paying hardly any interest and the tech industry was flush with money from ambitious venture capitalists, reducing demand for loans. The bank needed someplace to invest the deposits it held. Long-term treasuries, with their higher yield, fit the bill.
Get every newsletter and all of The Dispatch. Support quality, fact-based journalism.
Start Your Free Trial
ALREADY A PAID SUBSCRIBER? SIGN IN