A Struggling Mike Pence Takes the Spotlight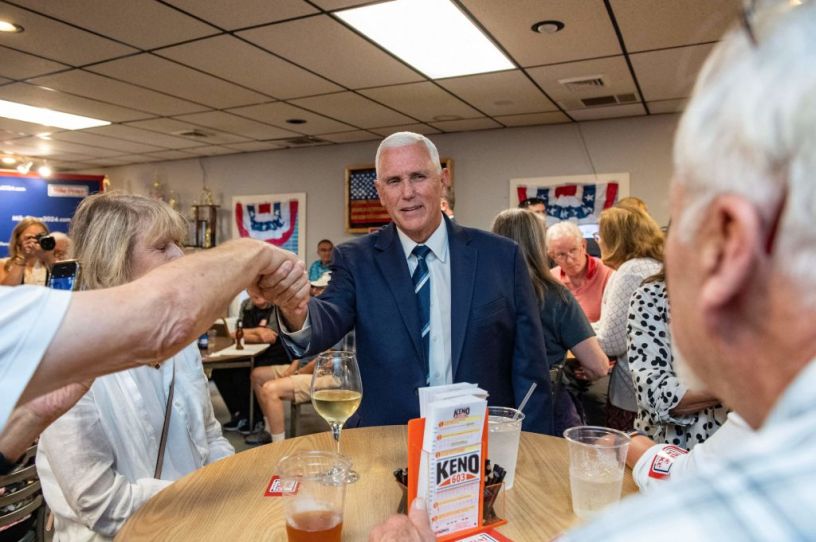 Former Vice President Mike Pence greets people as he arrives at a campaign event in Londonderry, New Hampshire, on August 4, 2023. (Photo by JOSEPH PREZIOSO/AFP via Getty Images)
Happy Monday! We're just dying to be a fly on the wall at the next Kennedy Thanksgiving dinner after reading this story from Peter Baker of the New York Times about how Robert F. Kennedy Jr.'s presidential campaign is roiling his famous family. Here's one of RFK Jr.'s sisters: "He has done a lot of good for many, many people. … I just don't want all that to get lost in the maelstrom around his more controversial statements and views."
Up to Speed
Voters aren't yet buying President Joe Biden's economic message, despite a deliberate effort to cast his administration's policies in a positive light under the "Bidenomics" brand. While poll numbers show voters are cool on the Democrat's economic policy, Politico reports that White House aides "remain confident the bet will pay off, adopting the mantra of the hockey legend Wayne Gretzky: Skate to where the puck is going, not where it is now."
Democratic Rep. Dean Phillips of Minnesota said on CBS News' Face the Nation on Sunday that he has "not decided yet" whether he will challenge Biden for the Democratic presidential nomination in 2024. Phillips added that he believes he's "well positioned" to run for president someday but not "well positioned to run for it right now," and called on other Democrats to throw their hat in the ring.
Ohio voters head to the polls Tuesday for a special election to amend the state's constitution. If passed, State Issue 1 would raise the required threshold for any future constitutional amendments from a simple majority of Ohio voters to 60 percent. The proposal is being pushed by and generally supported by Republicans, who have expressly stated that they want to make a constitutional amendment enshrining the right to abortion harder to pass when that amendment is on the ballot this November.
Former President Donald Trump said in a social media post on Sunday that he plans to ask for a judge recusal in the latest Justice Department indictment against him. The indictment, unsealed last week, centers on his alleged efforts to overturn the 2020 presidential election. "THERE IS NO WAY I CAN GET A FAIR TRIAL WITH THE JUDGE "ASSIGNED" TO THE RIDICULOUS FREEDOM OF SPEECH/FAIR ELECTIONS CASE. EVERYBODY KNOWS THIS, AND SO DOES SHE!" Trump wrote. Trump also said he plans to request the case be moved out of Washington.
Federal prosecutors investigating Donald Trump's alleged efforts to overturn the 2020 presidential election asked Judge Tanya Chutkan to issue a protective order prohibiting the former president from publicly discussing any sensitive material involving his ongoing case. Prosecutors flagged a social media post in which Trump wrote: "IF YOU GO AFTER ME, I'M COMING AFTER YOU!" Chutkan said on Saturday that Trump's lawyers have until 5 p.m. Monday to respond to the order.
A Struggling Pence Finds Relevance With Trump Indictment
At first glance, former Vice President Mike Pence looks like a presidential candidate on his way out. His support is stagnant in the low single digits in both national and early-primary-state polls. He is still scrambling to get on the debate stage later this month, though the Pence campaign continues to promise reporters that the Hoosier Republican will reach the necessary threshold of 40,000 unique donors.
Not only does Pence's neo-Reaganite, traditionalist conservative message seem out-of-touch with the populist fervor of the GOP primary base—supporters of the frontrunner, former President Donald Trump, are even showing up at his campaign events to heckle him as a disloyal traitor. NBC News reports over the weekend:
As soon as the former vice president arrived at the American Legion Hall in Londonderry, New Hampshire, he encountered about 10 pro-Trump protesters carrying flags and signs.