Jim Jordan Pushing for Support Ahead of Tuesday Floor Vote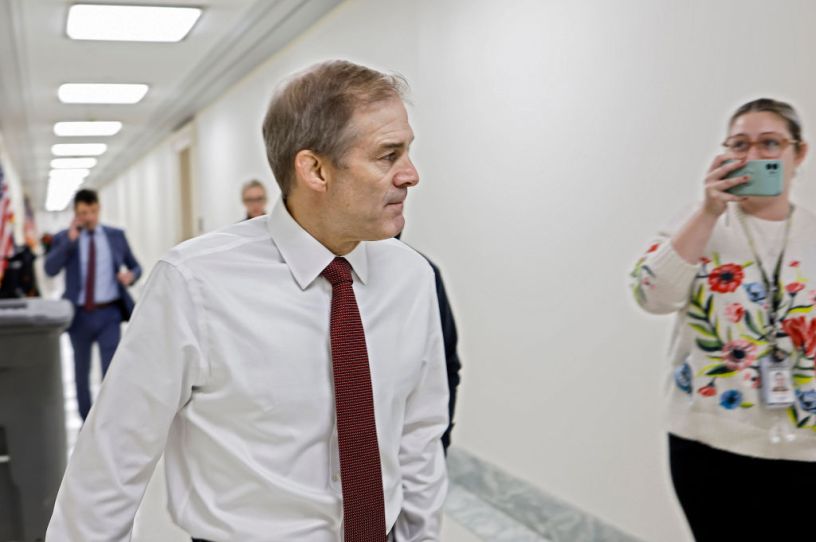 Rep. Jim Jordan in the Rayburn House Office Building on October 16, 2023, in Washington. (Photo by Anna Moneymaker/Getty Images)
Happy Monday! It's a beautiful day to be a House Republican, heading back to Washington for what promises to be another pleasant evening of negotiations around who should succeed Kevin McCarthy as House speaker.
Up to Speed
Former Vice President Mike Pence's campaign may be in real financial trouble, with only $1.2 million in cash on hand and $620,000 in debt going into the fourth quarter of the fiscal year, NBC News first reported Saturday. Former President Donald Trump has $37.5 million in the bank, with most of that available to spend during the Republican primary, while former governor and ambassador Nikki Haley, who raised more than $8 million this quarter, is sitting on a war chest of $11.5 million. Florida Gov. Ron DeSantis has $13.3 million on hand, although only about $5 million of that can be spent in the primary. Even Chris Christie is in better financial shape than Pence: The former New Jersey governor raised $3.7 million in the third quarter and has $3.9 million in the bank.
Sen. Tim Scott still has plenty of money to spend, with $13.3 million in cash on hand, but his numbers are cause for concern for a different reason. After coming into the third quarter with more than $21 million—a result of years of fundraising in the Senate—the South Carolina Republican raised only $4.6 million during that period while blowing through $12.3 million in spending.
President Joe Biden, the Democratic National Committee, and related entities dedicated to reelecting him raised more than $71 million in the third quarter and entered this month with $91 million in cash on hand. The Biden team boasts that 240,000 of the grassroots donors who contributed to the campaign from July 1 through September 30 were new and did not donate in 2020.
Biden has canceled a trip to Pueblo, Colorado, where he planned to discuss energy issues. He will instead remain in Washington to attend to national security matters, presumably related to the war in Israel, a White House official said. The move was announced Monday morning just ahead of Biden's scheduled departure.
After strongly backing Israel in several previous public statements, Biden sounded a note of restraint in a "60 Minutes" interview aired Sunday as Israel prepares for a ground invasion of Gaza in its war against the terror group Hamas. "What happened in Gaza, in my view, is Hamas and the extreme elements of Hamas don't represent all the Palestinian people," Biden said, saying that it would be a "big mistake" for Israel to occupy Gaza and that "there needs to be a path to a Palestinian state."
Asked about growing demands on the left for Israel to de-escalate the conflict with Hamas, White House spokesman John Kirby told The Dispatch in an interview published Sunday that "Israel and the United States are always stronger together when we stand on our principles, when we reflect back on our shared values, and some of those shared values are respect for innocent human life and a respect for the law of war and the law of armed conflicts."
Florida Gov. Ron DeSantis announced last week that his government would charter flights to Israel to help Floridians stranded by the war between Israel and Hamas get home. The first such flights landed in Tampa and Orlando Sunday night, carrying 277 people between them. DeSantis also authorized Florida's Division of Emergency Management to deliver aid supplies to Israel during the conflict.
The judge in Donald Trump's felony election-fraud case issued a narrow gag order today preventing the former president from "making statements targeting prosecutors, possible witnesses and the judge's staff." Special Counsel Jack Smith has argued Trump has used public statements to smear prosecutors, intimidate potential witnesses, and stoke threats of violence ahead of his trial. 
Jim Jordan's Turn in the Vote-Hustling Barrel
As an original leader of the sharp-elbowed House Freedom Caucus, Rep. Jim Jordan knows plenty about how to smash a governing coalition. Now, the Ohio Republican has to try and build one.
On Friday, Jordan had the dubious honor of becoming the third Republican this year nominated by his party for speaker of the House. The vote came just days after the conference passed over Jordan for Majority Leader Steve Scalise—who subsequently bowed out after it became clear some Jordan supporters wouldn't come aboard his ship. (Recall that, barring any Democratic support, the next Republican speaker will need to secure 217 of 221 Republican votes on the House floor to win the gavel.)
For Jordan, getting the whole conference on his side is a herculean task. His 124-81 victory Friday was far from a show of strength, coming as it did against Rep. Austin Scott—a relative backbencher from Georgia and last-minute entry into the contest. In a second, secret ballot, 55 Republicans said they would not support Jordan in the House-wide vote—enough to sink his speakership bid 10 times over should that number hold on the floor.
You're out of free articles
Create an account to unlock 1 more articles