Inside the Biden Administration's Thinking on Israel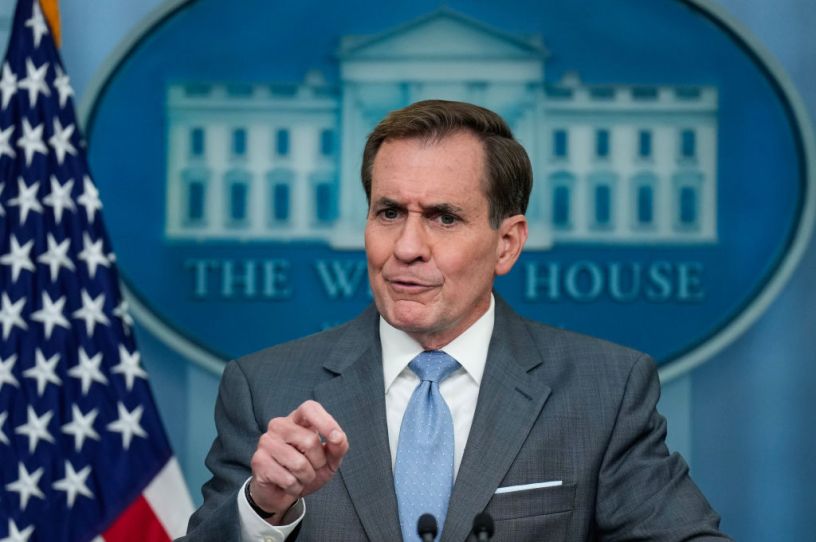 Coordinator for Strategic Communications at the National Security Council John Kirby speaks during the daily press briefing at the White House October 12, 2023 in Washington, DC. (Photo by Drew Angerer/Getty Images)
The White House is warning urgent military aid to Israel could face delays amid Republican infighting that has crippled the House of Representatives, leaving the chamber without a speaker and halting all legislative business.
In an interview with The Dispatch, John Kirby—President Joe Biden's chief spokesman for national security matters—said Israel could require a fresh resupply of munitions from the United States in a matter of "weeks" as the Jewish state undertakes military operations to neutralize Hamas. Kirby said this auxiliary aid package requires congressional authorization, which is why House Republicans' struggle to elect a speaker and get the chamber back to work is concerning the White House.
"The speakership is incredibly important because without a speaker of the House, you can't bring new legislation to the floor, you can't schedule votes, and of course, that's what we're going to need here," Kirby said in a telephone interview late Friday. "Supplemental funding is going to require legislation, so obviously, a speaker's important."
Israel receives billions of dollars in U.S. aid annually.
You're out of free articles
Create an account to unlock 1 more articles