New Georgia GOP Chair Straddles Trump and Kemp on 2020 Election Question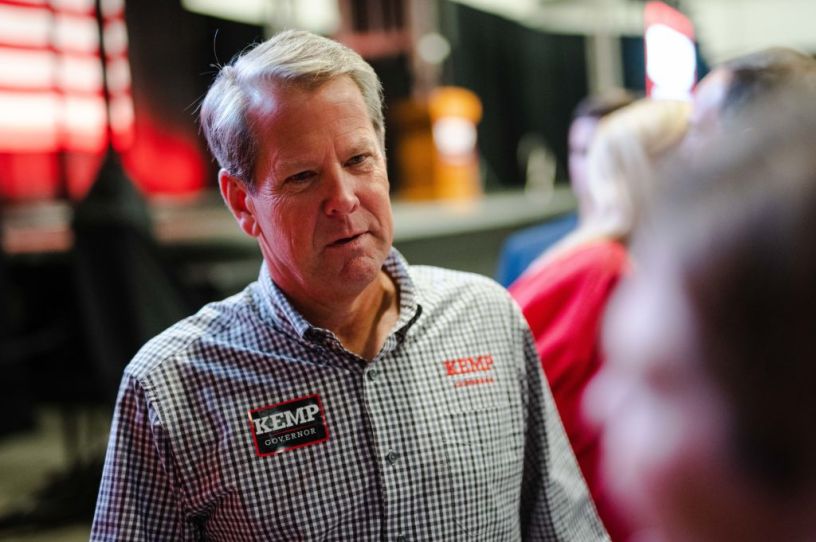 Georgia Gov. Brian Kemp in Kennesaw, Georgia, on November 7, 2022. (Photo by Kevin D. Liles for The Washington Post via Getty Images)
Happy Friday! Headline of the week award goes to the New York Times' Elizabeth A. Harris: "What Alex Jones, Woody Allen and Robert F. Kennedy Jr. Share."
Up to Speed
Donald Trump's lawyers requested an April 2026 trial date for special counsel Jack Smith's indictment over the former president's efforts to overturn the 2020 presidential election, according to court documents filed Thursday. That would be more than two years after federal prosecutors' proposed January 2024 court date request. Trump also canceled a news conference scheduled for Monday in which he'd planned to release an election-related report, saying in a Thursday evening Truth Social post: "Rather than releasing the Report on the Rigged & Stolen Georgia 2020 Presidential Election on Monday, my lawyers would prefer putting this, I believe, Irrefutable & Overwhelming evidence of Election Fraud & Irregularities in formal Legal Filings."
Think you had a bad day yesterday? The New York Times obtained hundreds of pages of debate advice posted online by Axiom Strategies, a political consulting outfit running a Ron DeSantis-aligned super PAC, before the Florida governor takes the stage in next week's Republican debate in Milwaukee. From the Times story, here are the memo's "four basic must-dos" for DeSantis during the debate, one of which includes defending the GOP frontrunner: "1. Attack Joe Biden and the media 3-5 times. 2. State GRD's positive vision 2-3 times. 3. Hammer Vivek Ramaswamy in a response. 4. Defend Donald Trump in absentia in response to a Chris Christie attack."
Republican presidential candidate Tim Scott is unveiling an $8 million ad buy in New Hampshire and Iowa for television, radio, and digital commercials, a robust spending effort to spread his message and name ID in the two crucial early states.
Democratic Sen. Bob Menendez's approval ratings are tanking in New Jersey amid an ongoing federal investigation into whether a meat company gave Menendez and his wife unreported gifts in exchange for political influence. Here's a new polling readout from Monmouth University released on Thursday: "Menendez receives a negative 35% approve and 44% disapprove rating from all New Jersey adults and a 36% approve and 45% disapprove rating from registered voters. This marks a reversal from last year (44% approve and 39% disapprove among voters in April 2022)."
Georgia GOP Chairman Doesn't Back Kemp on 2020 Election Dispute
As Georgia's 2020 presidential election results again become a point of Republican infighting, the newly elected chairman of the state GOP isn't siding with Gov. Brian Kemp in saying the contest was legitimate.
Earlier this week Kemp rebuked former President Donald Trump, who yet again made unsubstantiated claims that the 2020 contest in Georgia was criminally "rigged" in favor of now-President Joe Biden. "The 2020 election in Georgia was not stolen," Kemp responded in a viral post on X, formerly known as Twitter.
In a subsequent interview with The Dispatch, Georgia Republican Party Chairman Josh McKoon wouldn't back Kemp's position. Asked twice by The Dispatch whether he thinks Trump's claims or Kemp's claims are correct, McKoon dodged. "The certified result is what the certified result was," he says.