Nikki Haley and Tim Scott's Collision Course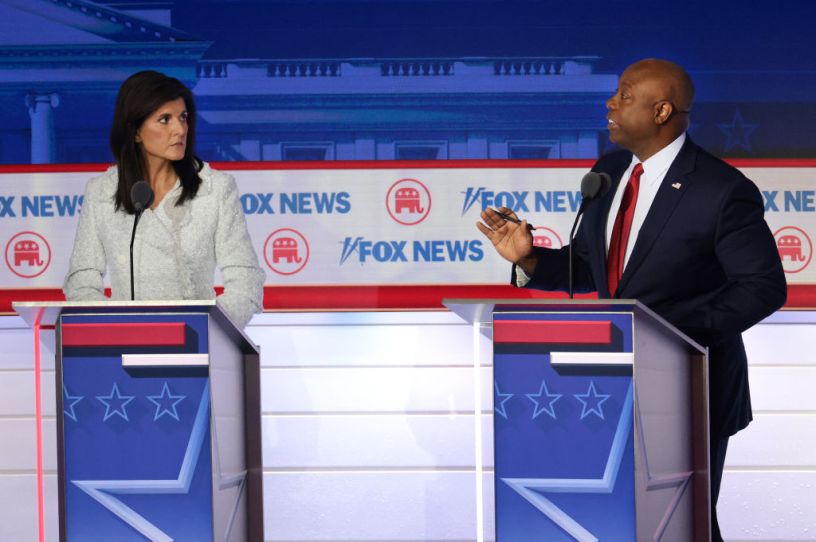 Republican presidential candidates Nikki Haley and Sen. Tim Scott participate in the first debate of the GOP primary season hosted on August 23, 2023, in Milwaukee, Wisconsin. (Photo by Win McNamee/Getty Images)
Happy Friday! We were just putting this newsletter to bed when the news broke that California Sen. Dianne Feinstein, the longest-serving senator in her state's history, has died at age 90. Our thoughts are with her family.
Up to Speed
President Joe Biden lit into his predecessor and leading challenger Donald Trump in a Thursday campaign speech, calling the former president and his "MAGA" movement "a threat to the brick and mortar of our democratic institutions" and to "the character of our nation." "I never heard a president" talk like Trump does, Biden said from the stage in Tempe, Arizona, "not guided by the Constitution or by common service and decency toward our fellow Americans, but by vengeance and vindictiveness."
Six Republican candidates for president participated in the second GOP debate Wednesday night at California's Reagan Presidential Library. The two-hour affair produced some highlights: Florida Gov. Ron DeSantis took his most direct shots at Trump to date on abortion and government spending, while Sen. Tim Scott pulled a rhetorical knife on his former governor and fellow South Carolinian Nikki Haley. For the most part, though, the two-hour event was messy and at times difficult to follow, producing few meaningful policy contrasts among the field.
While the other Republicans sparred in California, Trump was taking the stage at an auto-parts manufacturing plant outside Detroit, Michigan, for one of his signature free-associative rally speeches. The event was meant to bolster Trump's blue-collar bona fides, although its purported connection to the ongoing United Auto Workers' strike was garbled—Trump gave his speech at a non-union business with only a smattering of union workers in attendance and spent much of his time grumbling that union bosses "always endorse a Democrat."
House Speaker Kevin McCarthy plans to hold a House vote today on Republicans' stopgap spending package, forging ahead despite ongoing opposition from a handful of holdouts that guarantee the bill is dead on arrival in the House, to say nothing of the Democrat-controlled Senate, which has moved forward with its own more bipartisan spending package. Barring an act of God, the government will shut down on October 1, the beginning of the new fiscal year.
The Scott-Haley Scuffle Could Shape the GOP Primary
SIMI VALLEY, California—The spat was inorganic, entirely manufactured by Fox Business moderator Dana Perino. Yet the verbal fisticuffs between Nikki Haley and Tim Scott late in the second televised Republican debate exposed a simmering South Carolina rivalry with the potential to influence the GOP presidential nomination.
"We certainly didn't initiate that," Haley campaign spokeswoman Olivia Perez-Cubas told reporters immediately afterward. "I think it says more about his campaign and him trying to get some traction, quite frankly, than her."
"He was not afraid to make contrasts. I think that's what you saw tonight," Scott campaign spokesman Matt Gorman countered. "He's going to stand up for what he believes in."
You're out of free articles
Create an account to unlock 1 more articles