Pompeo Sounds Off on Classified Documents Scandal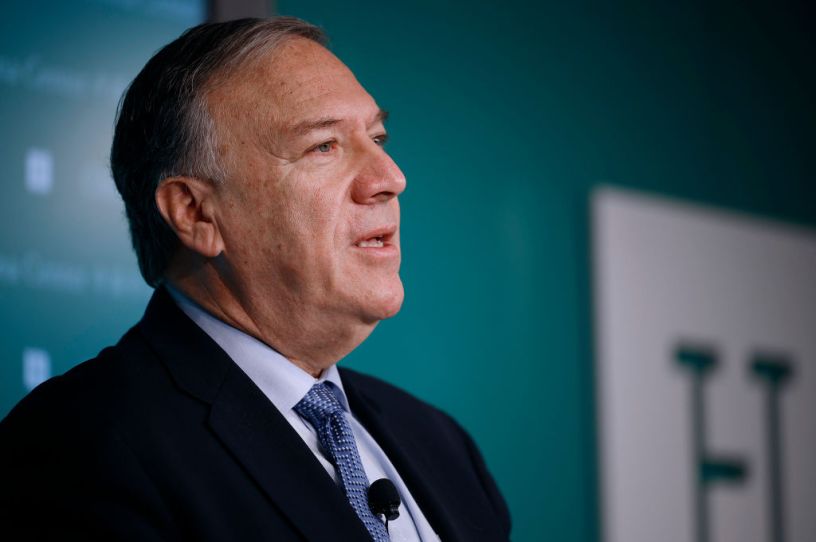 Former Secretary of State Mike Pompeo. (Photo by Chip Somodevilla/Getty Images.)
Happy Monday! Welcome to Dispatch Politics, our newsletter chronicling the American contest for political power. In the months ahead, we'll bring you blow-by-blow coverage of the storylines that matter as new candidates gear up to sell the public on why they're the ones we've been waiting for. We hear the 2024 election is going to be a big one. Let's get started.
Up to Speed
Former President Donald Trump hit the presidential campaign trail this weekend, venturing out from his Mar-a-Lago compound for stops in the key early states of New Hampshire and South Carolina. He used those appearances to fire shots at potential rival Florida Gov. Ron DeSantis and roll out high-profile endorsements in both states—Sen. Lindsey Graham and Gov. Henry McMaster in South Carolina and outgoing state party chair Bill Stepanek in New Hampshire. (Notably absent from Trump's New Hampshire event: Gov. Chris Sununu, who tells The Dispatch he's mulling a presidential run of his own.)
Republican National Committee Chair Ronna McDaniel was elected to a fourth term on Friday, cruising to victory with 111 votes to challengers Harmeet Dhillon, a national committeewoman from California who won 51 votes, and MyPillow CEO Mike Lindell, who won four. The secret-ballot election came amid deep fractures among Republicans about how the party handled the 2020 election and last year's lackluster midterm elections, when Republicans underperformed historical trends, failing to flip the Senate and only narrowly retaking the House.
Democratic California Sen. Dianne Feinstein—who, at 89, is the oldest member of the Senate, and whose reportedly declining mental faculties have been the subject of intense scrutiny—hasn't yet announced that she won't seek another term. But the Democratic race to replace her is already starting to get crowded. Rep. Adam Schiff, who built a national profile during the Trump presidency as the top Democrat on the House Intelligence Committee and manager of Trump's first impeachment trial, announced his candidacy for the seat last Thursday—the same week House Speaker Kevin McCarthy kicked him off the committee for pushing the later discredited Steele dossier. Schiff's announcement comes weeks after Rep. Katie Porter, an Orange County progressive darling close to Sen. Elizabeth Warren, announced her own bid for Feinstein's seat. Democratic Rep. Barbara Lee is also reportedly eyeing a bid.
Pompeo: 'I Don't Think I Have Any Classified Documents'
Has Mike Pompeo scoured his office and home recently for classified documents?
Has the former secretary of state been contacted by the National Archives and Records Administration (NARA) or the Department of Justice (DOJ) as a part of investigations into potential improper possession of classified materials that now stretch from former President Donald Trump to current President Joe Biden, and that might now include former Vice President Mike Pence?
Pompeo would not say.