The Democratic Congressman Begging for a Biden Challenge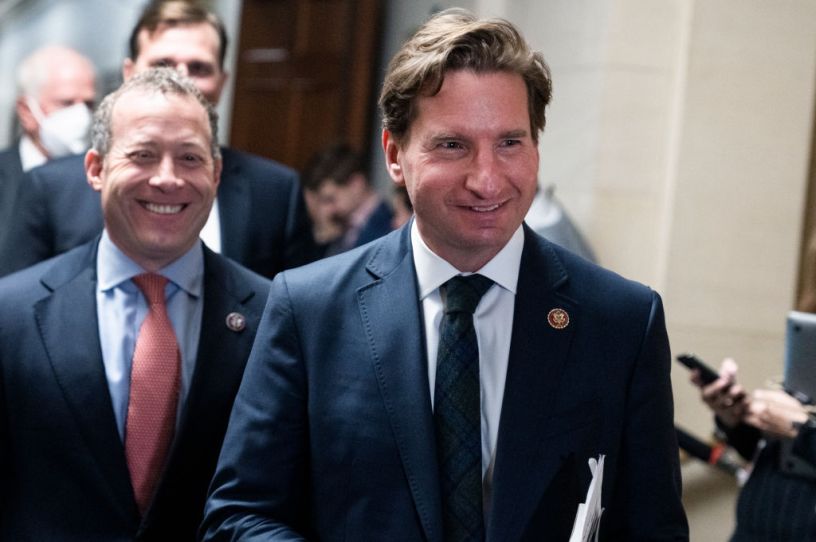 Reps. Dean Phillips and Josh Gottheimer are seen outside the House Democratic Caucus leadership election on November 30, 2022 in Washington. (Tom Williams/CQ-Roll Call, Inc via Getty Images)
Happy Wednesday! Another rough week for White House press secretary Karine Jean-Pierre, who mispronounced both Hawaii senators' names—and misgendered one of them—when speaking during her Tuesday briefing about the Maui wildfires.
Up to Speed
On Monday a grand jury in Fulton County, Georgia, charged former President Donald Trump and 18 co-defendants with conspiring to conduct a criminal enterprise in connection with their efforts to overturn the 2020 election results, in violation of Georgia's Racketeer Influenced and Corrupt Organizations (RICO) Act. Trump faces 13 felony charges, including false statements and writings, perjury, and conspiracy to defraud the state. The official indictment was unsealed Monday evening after court officials posted and quickly deleted a two-page docket—first reported by Reuters—detailing the charges on its website. The Fulton County court clerk later called the document a "fictitious docket sheet" that was meant to "test the system and conduct a trial run."
In a Tuesday court filing, federal prosecutors denied allegations from Hunter Biden's attorneys over the weekend that the Justice Department decided to "renege on the previously agreed-upon plea agreement" on Friday, the same day Attorney General Merrick Garland elevated U.S. Attorney David Weiss to special counsel status in the Hunter Biden probe. "The Defendant chose to plead not guilty at the hearing on July 26, 2023, and U.S. Probation declined to approve the proposed diversion agreement at that hearing," federal prosecutors responded on Tuesday. "Thus, neither proposed agreement entered into effect."
Trump, the GOP frontrunner, has not ruled out participating in next week's Republican National Committee-sponsored debate in Milwaukee. Longshot candidate Will Hurd is touting fundraising statistics that put him on the verge of qualifying—at least in terms of the minimum threshold of 40,000 donors established by the RNC. But the former president and the former congressman both say they have no intention of satisfying one particular RNC requirement for earning a spot on the debate stage—signing a loyalty pledge committing them to support the GOP's eventual 2024 nominee. So, is the RNC flexible on this prerequisite? "No," party officials tell The Dispatch.
How Serious Are Calls for a Biden Primary Challenge?
Rep. Dean Phillips is saying the quiet part out loud: Anxiety about President Joe Biden is rampant inside the Democratic Party.
Already the oldest president in history, Biden will be weeks away from his 82nd birthday by Election Day 2024. Political operatives, campaign donors, and elected officials all worry about whether he can endure the rigors of a real presidential campaign, one without a coronavirus pandemic to keep him home for long stretches.
Phillips, a third-term congressman who represents a suburban Minneapolis district, is begging Democrats more prominent than himself, preferably a moderate Midwestern governor, to challenge Biden in the primary. If no one answers the call, Phillips is leaving the door open to running himself. The commander-in-chief is a good man and a good president, the congressman insists. He's simply too old for the job and polls show Democratic voters are hungry for fresh leadership.