Trump's Indictment Confounds Challengers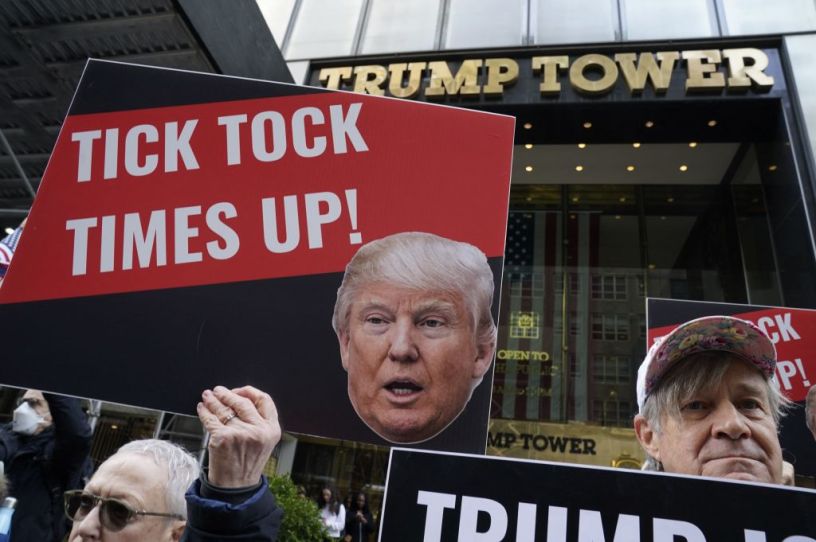 Protesters gather in front of Trump Tower in New York City Friday after a grand jury voted to indict former President Donald Trump. (Photo by TIMOTHY A. CLARY / AFP) (Photo by TIMOTHY A. CLARY/AFP via Getty Images)
Happy Monday! Quinnipiac conducted a poll last month asking registered voters: "Do you think the Manhattan District Attorney's case involving former President Donald Trump is mainly motivated by politics or mainly motivated by the law?" Some 62 percent of registered voters said they think the case is motivated by "mainly politics" and 32 percent think it's motivated by "mainly law." The politics/law divide becomes much more interesting when broken down by party affiliation: Republicans (93/5), Democrats (29/66), Independents (70/26).
Up to Speed
GOP Presidential Contenders Are Giving Cover to Trump
The indictment of Donald Trump has thrown nearly every Republican presidential contender off course—except the former president himself.
Despite the specter of a criminal trial now hanging over Trump, much has stayed the same for the Republican frontrunner. His 2024 messaging remains the same: Evil domestic forces are targeting me to punish you (or some such). His schedule largely remains the same, except for Tuesday's scheduled detour to Manhattan for his arraignment. And the candidate continues to rake in campaign cash and lead the race for the Republican nomination.
But some dynamics have changed. Trump is raising even more money than before. And, his lead in the nascent Republican primary has grown, according to polls conducted since late Thursday, when Manhattan District Attorney Alvin Bragg, a Democrat, filed a sealed grand jury indictment against the 45th president. All of these developments were highlighted in a Trump campaign memorandum from senior strategists Chris LaCivita and Susie Wiles Sunday evening.