Tolerating the Radically Intolerant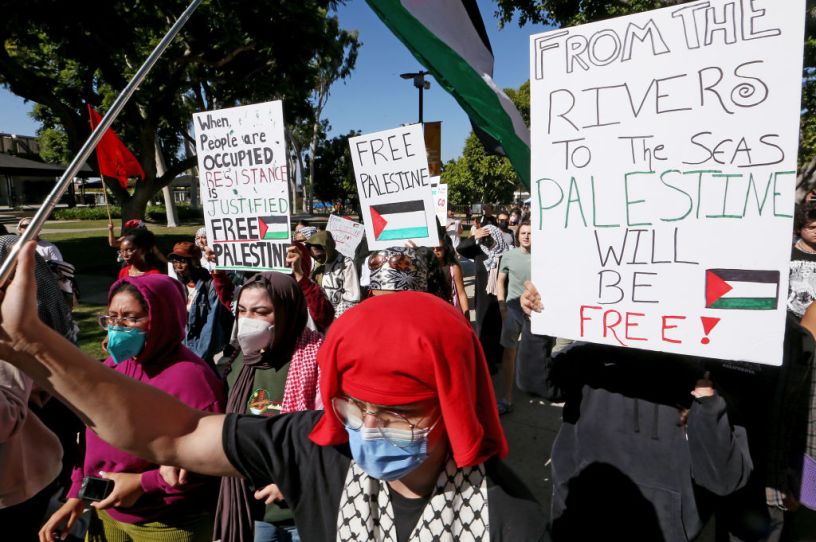 Cal State Long Beach students hold a campus rally in support of Palestinians amid the conflict between Israel and Hamas on Tuesday, October 10, 2023. (Luis Sinco/Los Angeles Times/Getty Images)
Dear Reader (excluding any of you who "sign" protest letters anonymously),
Someone pointed out the other day that in certain quarters of the left right now, it is more acceptable to shout "gas the Jews" than to say "men can't get pregnant."
Call me crazy, but this strikes me as suboptimal.
I need to make some distinctions and clarifications because there's a lot of nutpicking out there. There is a good number of left-wing people saying truly indefensible things. And a lot of right-wing people are delighting in claiming that these gargoyles are representative of the broader left. For instance, there's a self-described "tranarchist" named Jemma Decristo who purports to teach at UC-Davis who thinks it would be just dandy to have a domestic campaign of violent terror against "Zionist journalists" here in America. "They have houses [with] addresses, kids in school. They can fear their bosses but they should fear us more." Decristo concludes the post with emojis of a knife, an ax, and some drops of blood. If you have a more favorable interpretation of what that's supposed to mean, I'm all ears.
You're out of free articles
Create an account to unlock 1 more articles