Happy Tuesday! Japanese Prime Minister Fumio Kishida is putting that age-old Beatles maxim to the test, hoping to dig his way out of dismal approving ratings in the high-20s with a tax rebate. So far, it seems like the Japanese people "want the kind of things that money just can't buy."
Quick Hits: Today's Top Stories
Déjà Vu All Over Again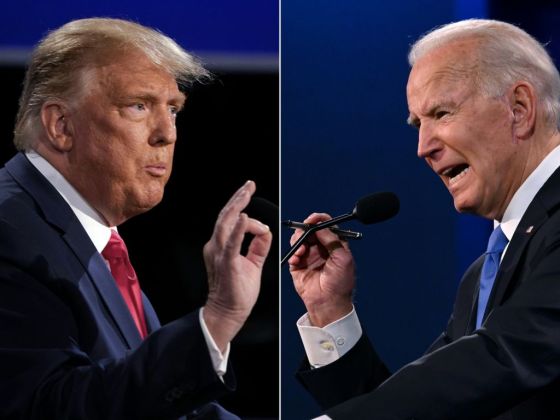 As this newsletter hits your inbox, there are now 364 days until the 2024 presidential election—and if that sentence gave you slight heart palpitations, President Joe Biden probably feels that way, too, considering the steady drumbeat of less-than-stellar polling he's seen in the last few weeks.
Even some Democrats have recently been forced to admit that the math isn't looking great for a Biden reelection victory in 2024, with his age a legitimate concern for voters of all political persuasions and different parts of his agenda alienating various factions of his Democratic coalition. Meanwhile, former President Donald Trump—far and away the frontrunner in the GOP primary—has remained fairly stable in general election polling, despite his increasingly radical rhetoric on the campaign trail and ever-mounting legal trouble.
Over the weekend, a New York Times/Siena poll of battleground states Biden won in 2020—Arizona, Georgia, Michigan, Nevada, Pennsylvania, and Wisconsin—struck fear into the hearts of Biden-friendly Democrats. These states helped deliver Trump and Biden their respective wins in 2016 and 2020, making them crucial for both campaigns in order to put together a total of 270 electoral college votes come November 2024. The topline poll numbers had Biden trailing Trump in a hypothetical head-to-head matchup in five of the six purple states—by 4 points in Pennsylvania, 5 points in Arizona and Michigan, 6 points in Georgia, and by a whopping 10 points in Nevada—not necessarily because Trump is making big gains, but because Biden is bleeding support among key constituencies. Trump has a "modest, but meaningful" lead in those five states, Times pollster Nate Cohn said Monday, referring to the fact that Trump's advantage is outside the poll's margin of error.
You're out of free articles
Create an account to unlock 1 more articles