A Rival Economic Bloc Grows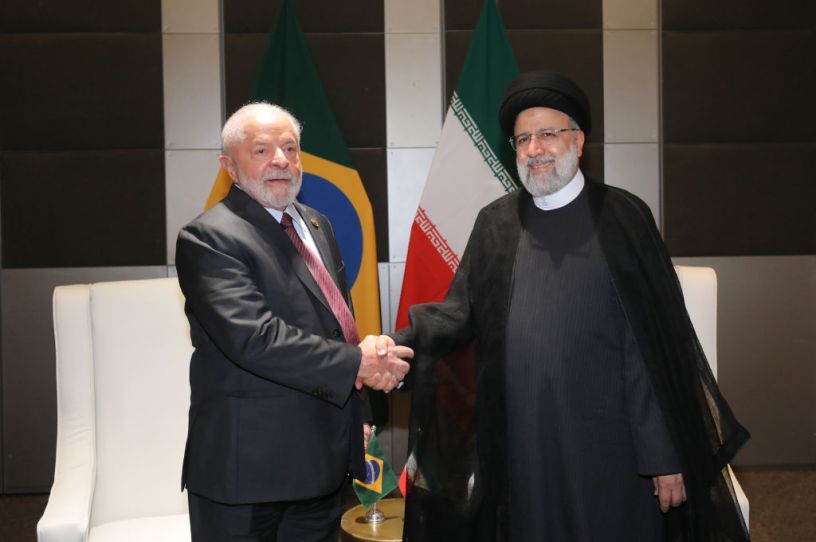 Iranian President Ebrahim Raisi meets with Brazilian President Inacio Lula da Silva as part of the 15th BRICS Summit in Johannesburg, South Africa on August 24, 2023. (Photo by Iranian Presidency / Handout/Anadolu Agency via Getty Images)
Happy Friday! In order to speed up the booking process, according to a senior adviser to the former president, Donald Trump's height and weight were "pre-reported" on Thursday rather than being measured at Fulton County Jail. He's listed at 6 feet 3 inches and 215 pounds—exactly the same as Derek Carr, the starting quarterback of the New Orleans Saints.
Quick Hits: Today's Top Stories
Brick by BRICS
The BRICS group—a coalition of developing economies that features Brazil, Russia, India, China, and South Africa—may soon be doubling in size. Half a dozen additional countries—Saudi Arabia, Iran, Egypt, Argentina, Ethiopia, and the United Arab Emirates—were invited to join at the end of the group's four-day summit in Johannesburg this week. Upon first hearing the news, we immediately understood the rationale—how could you pass up a chance to form ICE AIRBUSES?—but then we learned the original moniker is here to stay.
"The name will remain BRICS, it's beautiful," Brazil's President Luiz Inácio Lula da Silva told the summit's leaders. "The child is already registered. The child has become an adult, she doesn't want to change her name." She does, however, want to grow. The coalition hopes to take on a larger profile on the world stage with its boosted membership, but it remains to be seen whether BRICS can become a viable multilateral coalition for developing nations seeking economic partnerships outside of Western-led international groups.
Brazil, Russia, India, and China originally formed the group in 2009—letting South Africa join a year later—as a bloc of emerging economies looking for a dedicated international forum outside of U.S.-dominated coalitions such as the G7 (a club of the world's seven most advanced economies). Anchored by its annual summit, BRICS provided a platform for emerging market powers, nations in the global South, and U.S. rivals who all felt they deserved more of a say in the international community. "The grouping doesn't really make that much sense, particularly because it features so many different kinds of countries, different regime types, and also different foreign policies," Ryan Berg, director of the Americas Program at the Center for International and Strategic Studies, tells TMD. "And yet every country in the BRICS grouping, Brazil included, have found their own justification for continuing to show up at these summits."
Get every newsletter and all of The Dispatch. Support quality, fact-based journalism.
Start Your Free Trial
ALREADY A PAID SUBSCRIBER? SIGN IN