Happy Wednesday. It took four days and multiple attempts, but Harvard University's leadership on Tuesday finally condemned Hamas' terrorist attack on Israel after dozens of student groups issued an open letter that held "the Israeli regime entirely responsible for all unfolding violence." Veritas, indeed.
Quick Hits: Today's Top Stories
Steadfast Western Support, So Far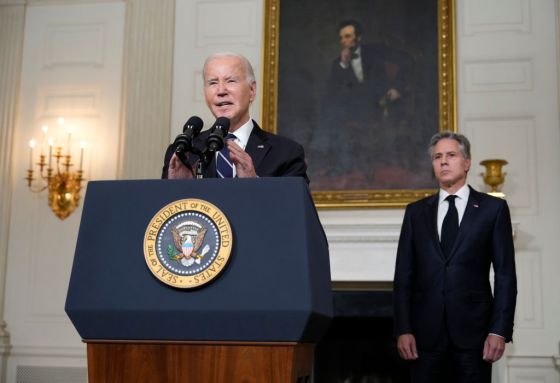 Shortly before 2:30 p.m. ET on Tuesday, President Joe Biden ambled to a lectern in the White House's State Dining Room and delivered what even many harsh critics of his administration would later praise as one of the strongest statements of support for Israel to ever come from the building. "You know, there are moments in this life—and I mean this literally—when the pure, unadulterated evil is unleashed on this world," he said in his televised speech yesterday afternoon, joined by Vice President Kamala Harris and Secretary of State Antony Blinken. "The people of Israel lived through one such moment this weekend. The bloody hands of the terrorist organization Hamas—a group whose stated purpose for being is to kill Jews. This was an act of sheer evil."
He then confirmed that at least 14 American citizens had been killed in the attacks, and that Americans rank among the dozens of hostages taken by Hamas.
The president's remarks came on the fourth day of the Israel-Hamas war, as the Israeli Defense Forces (IDF) continued to position troops at the Gaza border and carry out airstrikes on Hamas positions while rocket fire from Gaza rained down on Israeli territory. Biden's rhetoric is thus far indicative of Western leaders' steadfast and united backing for Israel in this time of crisis, but as the IDF prepares for a long and brutal war, how long such support lasts is an open question.