Embellishment or Fraud? That is the Question
Happy Thursday! What do CBS host Gayle King, beloved actor Tom Hanks, and YouTube star MrBeast have in common? Their likenesses are all being used, without their consent, in AI-generated advertisements—for a weight loss drug, a dental plan, and a free iPhone 15, respectively.
Quick Hits: Today's Top Stories
Trump's Civil Fraud Trial, Explained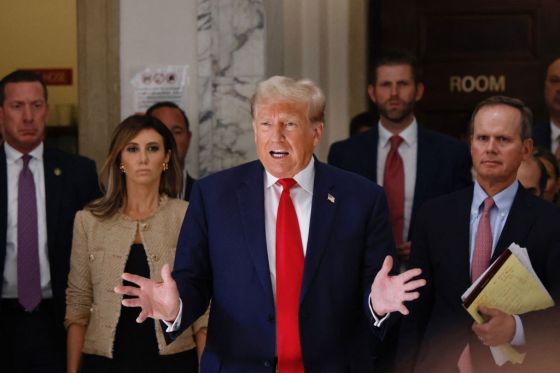 One of former President Donald Trump's attorneys in his New York civil fraud trial brought her gaming laptop to the courtroom yesterday. The PC's strobing lights of alternating colors offered quite the contrast to the stone-faced former president and his legal team seated at the table. But can we blame her? In a trial that centers on a decade's worth of financial statements and accounting, who wouldn't want to sneak in a game of Fortnite?
The trial kicked off this week with the drama and fanfare we've come to expect from a Trump courtroom appearance, with one major difference: One of the central claims of the case has already been decided. The case against the former president relies on the broad powers of a New York civil fraud law and threatens Trump's control of his premier assets and his ability to do business in his former home state.
In February 2019, Trump's former attorney and fixer Michael Cohen delivered dramatic testimony before Congress against his old boss, offering withering criticism of Trump and also of himself: Cohen said he had grown ashamed of what he did at Trump's bidding. Part of that testimony included claims that Trump inflated the value of his assets and that the Trump Organization engaged in systematic fraud, setting in motion a New York state fraud investigation that culminated in New York Attorney General Letitia James' current case against the former president.