Former President Arraigned
Happy Wednesday! We can't decide which unnecessary reboot rumored to be in the works excites us more: Shrek or Harry Potter.
Quick Hits: Today's Top Stories
Is There a There There?
Of all the days to have a quiet City Hall wedding in lower Manhattan, these two certainly picked the loudest.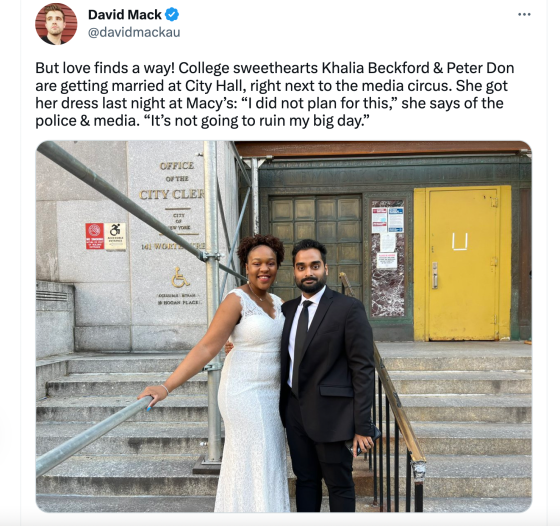 The happy couple emerged from City Hall next to a crowd that included three members of Congress, a man decked in MAGA gear spinning basketballs on an American flag, Times Square's infamous naked cowboy, and a New York-based member of your TMD team—all waiting for the arrival and arraignment of former President Donald Trump. Congratulations to the newlyweds! May you have better timing on future life milestones.
As expected—and relentlessly documented by hours of cable news footage featuring planes flying, cars driving, and police officers standing around—Trump traveled to a Manhattan courthouse yesterday and pleaded not guilty to 34 low-level felonies related to alleged hush money paid to porn star Stormy Daniels ahead of the 2016 presidential election. District Attorney Alvin Bragg still needs to prove his case in court, but the indictment and statement of facts released yesterday broadly matched earlier reporting—and generally failed to convince even anti-Trump legal analysts that the charges will stick.