Trump Raises the Rent on Republicans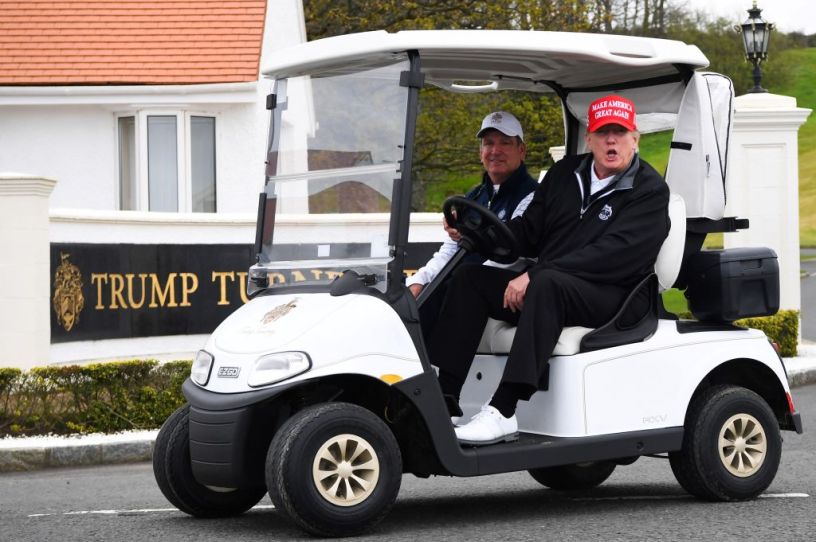 Former President Donald Trump drives a golf cart at the Trump Turnberry Golf Courses in Scotland on May 2, 2023. (Photo by Andy Buchanan/AFP/Getty Images)
A couple of weeks ago, we talked about how members of the Republican establishment were talking themselves into lying down for Donald Trump in his bid for a third GOP presidential nomination.

The thinking behind decisions like those of National Republican Senatorial Committee Chairman Steve Daines or South Carolina Gov. Henry McMaster to fall in line for Trump seems pretty obvious. If you fight Trump, it will be messy and he will probably end up winning the nomination anyway. Watching the springtime struggles of Florida Gov. Ron DeSantis in his pre-candidacy phase only seemed to confirm that. And, in the likely event that he loses again in the general election, Trump will finally be finished.

But this line of thinking is lately complicated by a couple of factors.

First, Trump might actually win the White House again. The recent polling that shows President Joe Biden starting his reelection campaign with a substantial deficit to Trump in a head-to-head matchup certainly caused a stir among Democrats. But it got wide notice among Republican insiders, too, and not in a good way.

What if Biden's age and feebleness is similarly disqualifying to swing voters as Trump's chaos and corruption? What if the race is cast as between one between a coot and a crook and voters chose the crook? What if Trump is returned to power, vindicated in his efforts to steal a second term and beyond the reach of voters for four years?

As North Dakota Republican Sen. Kevin Cramer said of the potential for a Biden-Trump rematch in 2024: "It's the damnedest thing, but a race to the bottom does produce a winner."

Hot on the heels of the bad poll for Biden came a double whammy for Republicans looking for an easy way out of the Trump trap. First, a New York jury found him liable in a high-profile sexual abuse lawsuit, and CNN offered Trump a prime-time platform in early primary state New Hampshire. Trump strutted and mugged his way through the show to the delight of his fans in the crowd, turning the strenuous efforts of the moderator to impose some kind of factual framework on the session into a prop for his we-hate-the-liberal-media act.

This week was a reminder for Republicans of the problem with lying down in front of the stampede: You still have to go through the trampling.

If Trump was back in his old fighting form, congressional Republicans were back in their old roles too: a broom and shovel brigade cleaning up behind him.

"I say to the Republicans out there—congressmen, senators—if they don't give you massive cuts, you're gonna have to default," Trump said before going on to minimize the potential consequences of such an event.

That's pretty tough talk for a guy who presided over a $1 trillion deficit before the pandemic spending spree started. But it also increased the misery index for Republicans trying to keep their conferences together. Back to their brooms they went, trying to clean up his mess.

As they did, they were given a foretaste of what the next year-and-a-half would bring with Trump rolling along as the presumptive nominee. Giving up to Trump without a fight means having to resume their roles as surrogates and apologists or risk getting a beating from Trump anyway.

Indiana Sen. Todd Young made no bones about his opposition to Trump the day after the town hall. Asked to list his reasons, Young replied, "Where do I begin?" And others may soon be so emboldened.

If the point of lying down is to avoid the fight, including Trump pushing another raft of low-quality Senate candidates in key races, how does it look if it's not a one-time decision but a daily struggle? What if, like Mike Pence, you do everything you can to serve Trump and he still ends up sending a murderous mob after you?

If you have to take a beating either way, there's got to be some appeal to starting on your own two feet instead of flat on your back.
---
Holy croakano! We welcome your feedback, so please email us with your tips, corrections, reactions, amplifications, etc. at STIREWALTISMS@THEDISPATCH.COM. If you'd like to be considered for publication, please include your real name and hometown. If you don't want your comments to be made public, please specify.

---
STATSHOT
Biden Job Performance
Average approval: 41.6%
Average disapproval: 54.4%
Net score: -12.8 points
Get every newsletter and all of The Dispatch. Support quality, fact-based journalism.
Start Your Free Trial
ALREADY A PAID SUBSCRIBER? SIGN IN