The Party Centrist Extinction Is Upon Us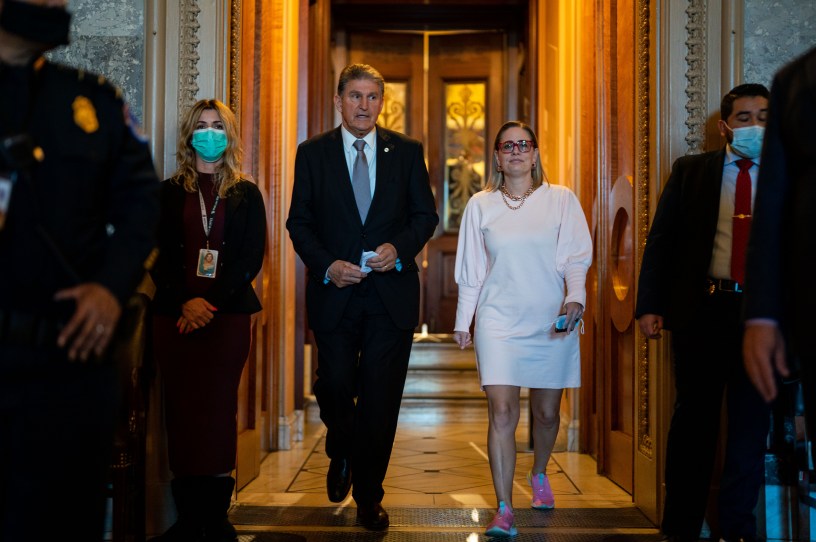 Sen. Joe Manchin and Sen. Kyrsten Sinema leave the Senate Chamber on Wednesday, November 3, 2021, in Washington, DC. (Kent Nishimura/Los Angeles Times/Getty Images)
Breadsticks
CNN just announced that Donald Trump will participate in a televised town hall for the network in New Hampshire next week. It is literally my job to watch this thing, so I will try to do so. But no promises because the question I'm waiting on isn't going to be answered that night. Instead, I'll have to wait about two days because that's when we'll get the ratings.
If this thing is a ratings boon for CNN, it's hard to imagine that a bunch of news organizations that are currently laying off employees aren't going to see a quick way out of their misery. It's going to be 2015 all over again, when Trump got $2 billion worth of free media attention—remember when there'd be an empty podium on the screen for 45 minutes?—because, to paraphrase the head of one network, he "may not be good for America, but [he's] damn good for CBS." But less accidental, less innocent.
And let's be real. It's not going to take much. Biden is winning against Trump by 1 to 3 points in the best national polls we have. That's within the margin of error. And that's not even taking into account the Electoral College math problem that Democrats still have. Democrats keep acting like they have this thing in the bag because Trump got indicted? Because Trump says crazy stuff? Because Trump?
This town hall could go very, very well for Trump. Not because he sounds presidential or has figured out how to save Social Security or beat China … but because a whole lot of people might tune in.