The Sweep: How Teflon Ron Is Repelling Trump's Attacks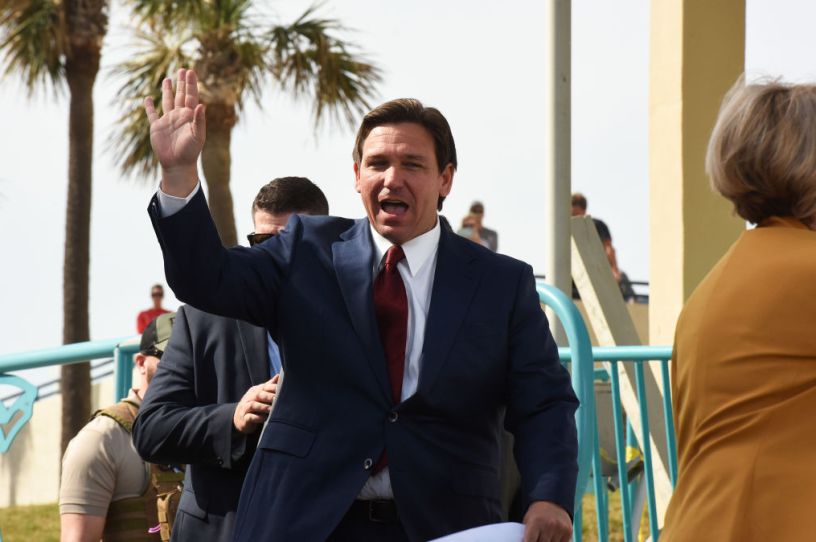 Florida Gov. Ron DeSantis arrives at a press conference on January 18, 2003. (Photo by Paul Hennessy/SOPA Images/LightRocket via Getty Images.)
Heavy Apps
#TeamAneurysm takes a turn in the spotlight. The best reporting happens when a journalist tells a story that everyone assumed has already been told. McKay Coppins wins the award this week for his piece in The Atlantic, "Republicans' 2024 Magical Thinking."
Press them hard enough, and most Republican officials—even the ones with MAGA hats in their closets and Mar-a-Lago selfies in their Twitter avatar—will privately admit that Donald Trump has become a problem. He's presided over three abysmal election cycles since he took office, he is more unstable than ever, and yet he returned to the campaign trail this past weekend, declaring that he is "angry" and determined to win the GOP presidential nomination again in 2024. Aside from his most blinkered loyalists, virtually everyone in the party agrees: It's time to move on from Trump.

But ask them how they plan to do that, and the discussion quickly veers into the realm of hopeful hypotheticals. Maybe he'll get indicted and his legal problems will overwhelm him. Maybe he'll flame out early in the primaries, or just get bored with politics and wander away. Maybe the situation will resolve itself naturally: He's old, after all—how many years can he have left?
That's right. The big GOP strategy to defeat Donald Trump in 2024 is … "actuarial arbitrage," as former Rep. Peter Meijer put it. Or #TeamAneurysm as one GOP strategist put it to me a while back. Everyone wants the guy out. Nobody knows how to do it. So they're hoping Jesus will take the wheel. And in the meantime, they're planning their trips to Iowa and New Hampshire as if it's already a done deal.
Get every newsletter and all of The Dispatch. Support quality, fact-based journalism.
Start Your Free Trial
ALREADY A PAID SUBSCRIBER? SIGN IN