The Sweep: What Just Happened?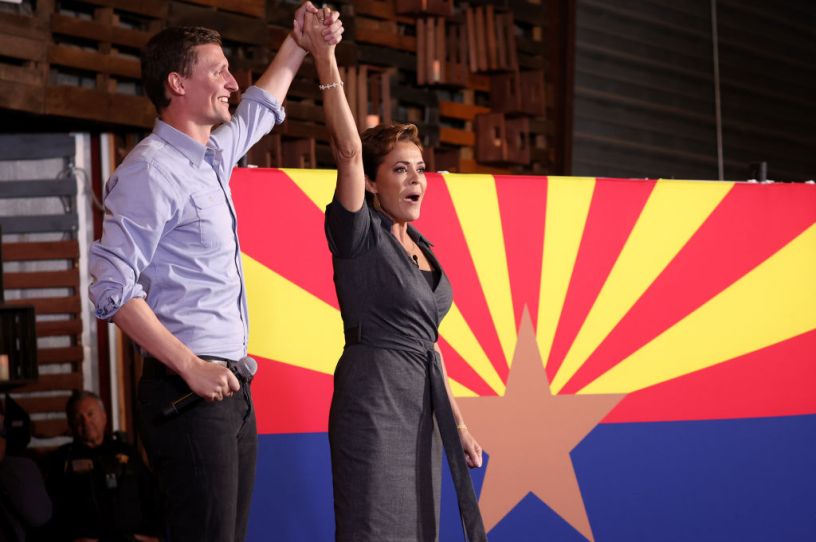 Arizona Republican gubernatorial candidate Kari Lake (right) and Senate candidate Blake Masters. (Photo by Justin Sullivan/Getty Images)
Short Answer
This was a cross-wave election and the Democratic wave swamped the Republican one. The result looks a lot like the status quo on the surface, but there is a lot of turbulence underneath. Democratic candidates defied history, presidential approval numbers, and economic indicators to maintain control of the Senate and hold Republicans to the slimmest of majorities in the House. And while we will dive into some of the potential explanations for that, the simplest one is that Democrats didn't exactly win, but Republicans definitely lost.
Long Answer
Abortion. Candidate Quality. Trump. Let's take them one at a time.
Abortion. I've been saying for weeks that it would be hard to know what role abortion played in these midterms because winning and losing isn't enough. But we have at least a few reasons to think it helped Democrats.
First, compare the ballot-measure results in Michigan to the governor's race. Gretchen Whitmer won with 54 percent of the vote; the ballot measure to amend the state constitution and "establish a new individual right to reproductive freedom" won with 57 percent of the vote. But about 85,000 fewer people voted for the ballot measure than in the governor's race. So maybe it's a wash, right? Nope. Whitmer got 2,427,985 votes. The ballot measure got 2,480,000. So even though almost 2 percent of the gubernatorial voters didn't vote either way on the ballot question, the pro-choice side got more votes. This almost certainly means the ballot measure—i.e., abortion rights—drove turnout for Whitmer and not the other way around.
Get every newsletter and all of The Dispatch. Support quality, fact-based journalism.
Start Your Free Trial
ALREADY A PAID SUBSCRIBER? SIGN IN