GOP Leaders Look to Build Support for Debt Deal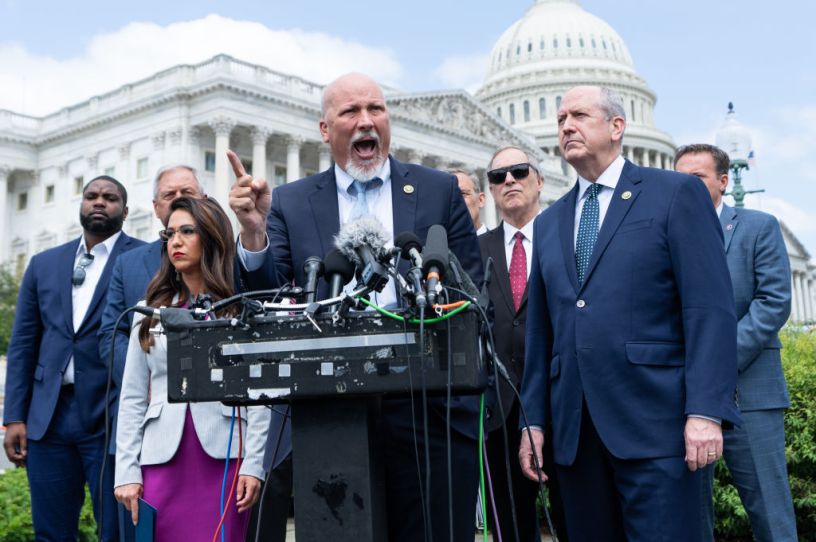 Rep. Chip Roy speaks during the House Freedom Caucus news conference to oppose the debt limit deal on Tuesday. (Bill Clark/CQ-Roll Call, Inc via Getty Images)
House Speaker Kevin McCarthy's deal with President Joe Biden over the weekend to suspend the debt ceiling until January 2025 has infuriated some conservative lawmakers. But whether the House Freedom Caucus or other hardliners will do anything about it remains to be seen.
"Democrats got everything they wanted with this bill," claimed Rep. Ken Buck. And Rep. Lauren Boebert described it as "swamp garbage," adding that voting for it would be "stabbing the American people directly in the back." Texas Rep. Chip Roy, meanwhile, called it a "turd-sandwich" and pledged to rally opposition to the bill.
Republicans who disike the bill can of course vote against it when it comes to the floor this week. But they also have the power to force a vote on removing McCarthy as House speaker. So far only one member has publicly indicated he is willing to go that far.
A motion to vacate the chair—the procedural tool to oust the speaker—is on the table and appears "inescapable" to Rep. Dan Bishop of North Carolina, he said Tuesday. It takes just one member to offer the motion, but removing McCarthy requires a majority of members who are present and voting. They'd also likely have to sustain it past an initial vote; some moderate Democrats have privately suggested they would be willing to help McCarthy remain speaker amid blowback over a debt ceiling deal.