Lawmakers Elevate Human Rights Ahead of First CCP Hearing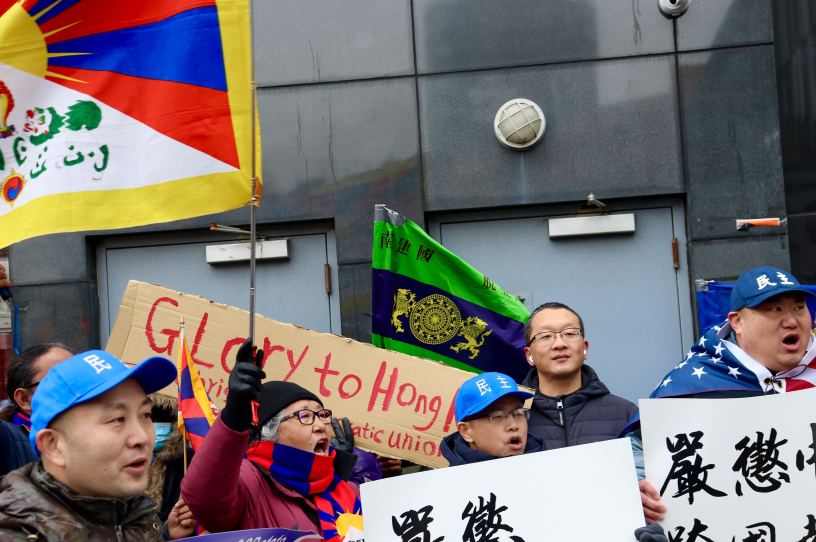 Protesters call for an end to transnational repression by the Chinese government. (Photo by Haley Byrd Wilt)
NEW YORK—Some demonstrators fled China decades ago because they weren't willing to risk political imprisonment again. Others witnessed the 1989 Tiananmen Square massacre. Some were from Tibet and Hong Kong, where Chinese authorities have systematically crushed basic freedoms.
Falun Gong practitioners were there too, protesting the Chinese government's persecution of their religious movement. Others were Uyghurs, fighting for an end to the Chinese Communist Party's ongoing genocide in Xinjiang.
Outside a suspected illegal Chinese police station in New York City's Chinatown on Saturday, the protesters had a common message: "If China is not free, this country is not safe," said Zhou Fengsuo, a human rights advocate and former student leader of the Tiananmen protests. "We are not safe."
The activists have some powerful allies. Three members of the House's new select committee on competition with the Chinese Communist Party—the panel's chairman, Rep. Mike Gallagher, progressive New York Rep. Ritchie Torres, and Florida GOP Rep. Neal Dunn—attended the rally and said they hope to take on the CCP's transnational repression.
"They want to export that repression around the world, and the only thing standing in their way is our will to defend our values," Gallagher said.
The committee will be in the spotlight tonight, when it holds its first hearing in prime time. Members will lay out how China poses a threat and why the panel exists. They'll also receive testimony from two national security experts who served in the Trump administration—H.R. McMaster and Matthew Pottinger—alongside Chinese human rights advocate Tong Yi. Scott Paul, president of the Alliance for American Manufacturing, is also slated to appear.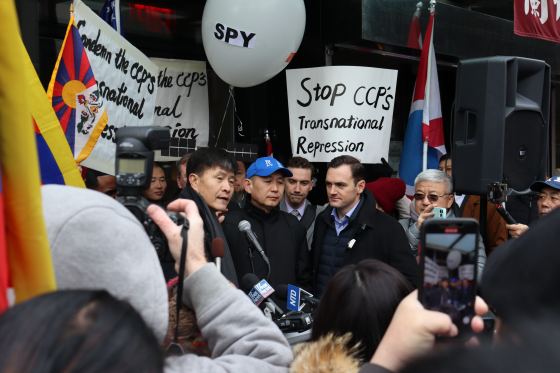 Gallagher wants the committee to remain focused and unified, a bipartisan bright spot in an otherwise bitterly divided Congress. Lawmakers from both parties broadly support a stronger stance against China. On Saturday, Torres described the CCP as "probably the most powerful totalitarian regime the world has ever known."
But keeping the committee from descending into partisan fights may be a challenge. Some Democrats have been skeptical from the outset, fearing the panel could spur anti-Asian discrimination as tensions between the United States and China rise. Recent comments by a Republican representative—one who isn't on the committee—questioning a Chinese-American lawmaker's loyalty to the United States have only added to Democrats' concerns about GOP rhetoric.
Gallagher's task is to lay out the Chinese government's malign behavior and explore avenues for America to both deter and prepare for conflict, while remaining clear-eyed about the difference between Chinese officials and the Chinese people.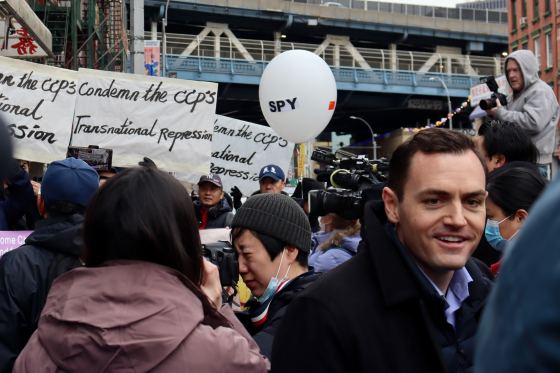 "It's really important to constantly draw that distinction between the Chinese Communist Party and the Chinese people," Gallagher said Saturday. "It is a strategy by the CCP to collapse that distinction."
Those comments came during a meeting at Columbia University with international students from several American colleges and universities who have faced pushback for criticizing the Chinese government. The three lawmakers heard stories from 11 students about being accosted by CCP supporters on campus when they tried to hang up posters or organize student events. One student described swift backlash from Chinese authorities in 2020 when he created a Facebook event page promoting a vigil to remember the protesters slain in Tiananmen Square. His parents, back home in China, called him after security officials told them to urge him to delete it. He now fears returning to China.
Gallagher, Torres, and Dunn's interest in the issue suggests the committee could hold a future hearing on the issue. Torres told the group he felt the college administrations in many of the cases students described had not been supportive enough of students critical of the Chinese government. He wondered if there are ways to incentivize stronger administrative responses to harassment, such as new conditions schools have to meet for funding.
"What I appreciated about today's events is that it was geared toward protecting Chinese Americans and Chinese dissidents from human rights abuses," he told The Dispatch when asked about his Democratic colleagues' concerns regarding anti-Asian hate. "We're responding to the grassroots sentiment directly from the Chinese community."
"My willingness to serve on the committee is based on my confidence in his leadership," he added of Gallagher. "He's going to approach the subject with the nuance that it deserves."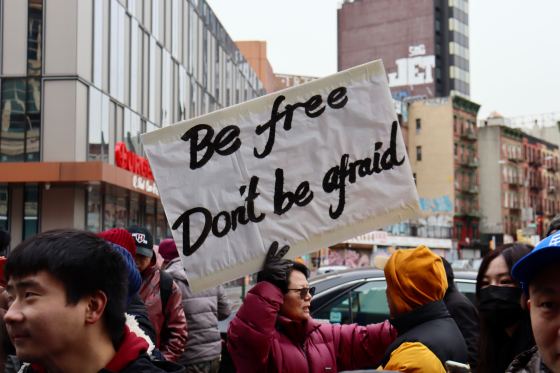 A New Book Illuminates the Horrors Uyghurs Face
At the turn of the millennium, Gulchehra Hoja was a famous television presenter in Xinjiang, working for a state broadcaster and producing a children's show about Uyghur culture in the region.
Then Chinese government censors intervened. Innocuous stories Hoja wanted to tell had to be filtered through the bureaucracy for approval. Increasingly, her bosses forced her to parrot the party line about the benefits of CCP educational programs that sent young Uyghur children far from home, away from their parents, even as she could see it was devastating for those kids.
Her new memoir, A Stone is Most Precious Where it Belongs, is a gutting look at the how the encroaching CCP oppression of her youth escalated to genocide in recent years.
One of the most powerful moments of the book comes when Hoja recounts visiting another country and suddenly having access to free, uncensored information. She learned about Xinjiang's past and discovered the sweeping scale of the Chinese government's oppression. That's when she decided she couldn't go home and decided to work for Radio Free Asia's Uyghur service from America, where she has broken news about human rights abuses in Xinjiang and helped uncover the genocide as it was unfolding.
Since then, Hoja has been almost entirely cut off from her family, with Chinese officials closely monitoring any contact she makes with them. In 2018, shortly after she reported a story about China's mass detention of Uyghurs, 24 members of her family in Xinjiang were rounded up and disappeared in one night.
Hoja's book is powerfully written. Readers come away from it with a better appreciation for Uyghur culture and a stronger understanding of the suffering they have faced for many years. The book, released last week, is available here.
On the Floor
The House will consider legislation requiring the White House to predict changes in inflation related to major executive orders. Members will also vote on a measure rolling back a Department of Labor rule that gave retirement plans more room to factor in environmental and social concerns in making investments.
The Senate is considering judicial nominees this week.
Key Hearings
Of Note
GOP-led House steps up scrutiny of Biden's military aid for Ukraine
Security agencies and Congress brace for fight over expiring surveillance law
Tennessee Congressman Andy Ogles didn't want you to see his college transcript. We got it anyway
Quieter Senate gives Fetterman recovery room
---
To get Uphill in your inbox, sign up here. If you're not a member of The Dispatch, join now.