McCaul Pushes for State Department's Afghanistan Docs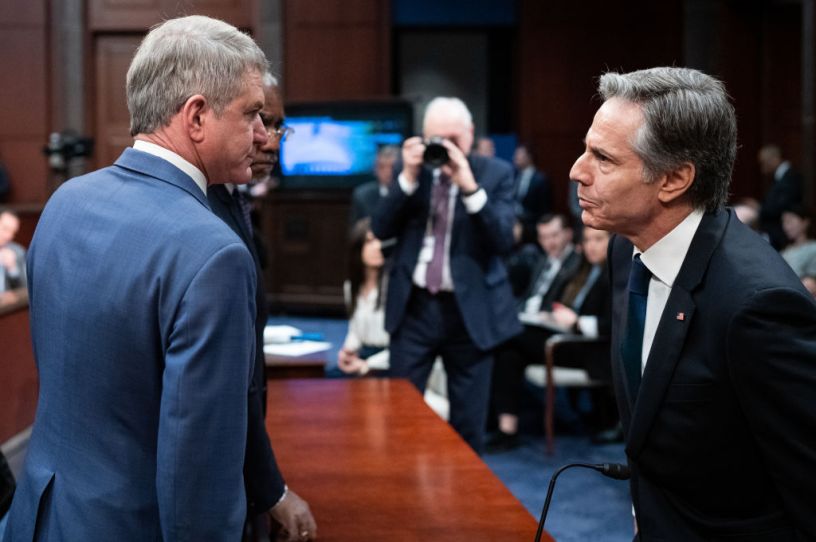 Rep. Michael McCaul speaks with Secretary of State Antony Blinken during a House Foreign Affairs Committee hearing Thursday. (Bill Clark/CQ-Roll Call, Inc via Getty Images)
House Foreign Affairs Committee Chairman Mike McCaul is threatening Secretary of State Antony Blinken with a subpoena early next week if Blinken does not provide key documents related to the Biden administration's disastrous 2021 Afghanistan withdrawal.
During a committee hearing Thursday, McCaul set a close-of-business Monday deadline for Blinken to turn over an internal dissent cable more than 20 State Department officials sent in July 2021 warning of the potential collapse of Kabul if the withdrawal proceeded. It's the firmest threat he's made yet to use House Republicans' oversight powers after months of staff-level discussions with the State Department.
"This committee and the American people, after what happened—for God's sake after what happened in that dreadful August—need to see this cable," McCaul told Blinken on Thursday.
Blinken resisted the idea of delivering the full cable to lawmakers: He argued the State Department's dissent channel allows anyone in the department to "speak truth to power," and personnel have assurances such communications will remain confidential.