On Protests in China, Is Less More?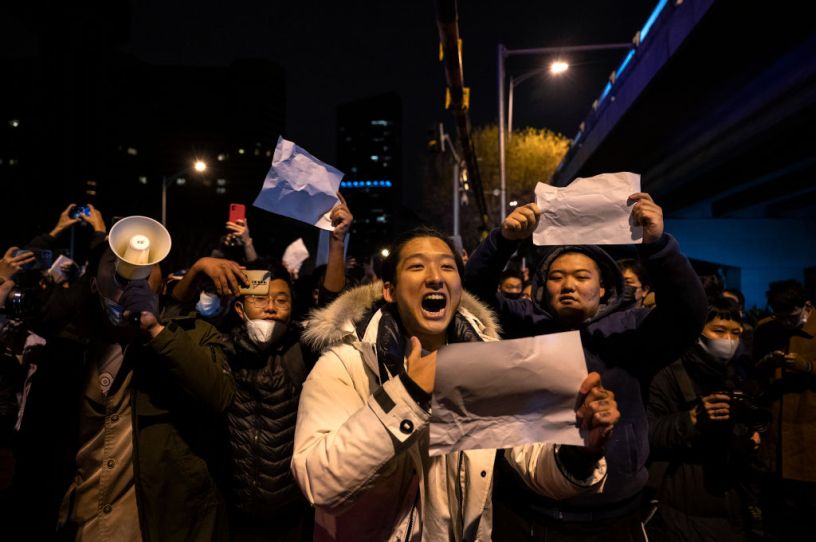 A protester in Beijing shouts slogans against China's strict zero COVID measures. (Photo by Kevin Frayer/Getty Images)
Good afternoon. Congress is back—with a Senate vote soon on the Respect for Marriage Act—and we have a jam-packed Uphill for you today. We'll start with the government's response to historic protests in China, get into House leadership elections, and then take a look at next steps for the January 6 committee.
How Should America React to Protests in China?
Members of Congress from both parties have offered firm statements of support for Chinese protesters seeking an end to their government's oppressive "zero-COVID" policies. The Biden administration has been more restrained, though, declining to comment on the substance of the protests but reiterating America's belief in the right to peaceful protest.
The different approaches tee up a new debate about the U.S. government's posture toward the Chinese government's authoritarianism. Some human rights advocates want to see a stronger stance in support of the protests from U.S. officials, also warning that America should be clearer about potential consequences if the Chinese government cracks down on protesters. Others, including Democratic congressional staff and China policy experts, argue the United States should let the protesters speak for themselves rather than providing fodder to the Chinese government's reflexive blame-foreign-instigators game.
Todd Stein, deputy staff director on the Congressional-Executive Commission on China, said over the weekend that the American government "must be extremely deliberate in deciding when to speak up and when to stay silent. We can harm even when we think we're helping."
Keep reading with a free account
Create a free Dispatch account to keep reading
Get Started
ALREADY HAVE AN ACCOUNT? SIGN IN