Progressives Push for a Ukraine Ceasefire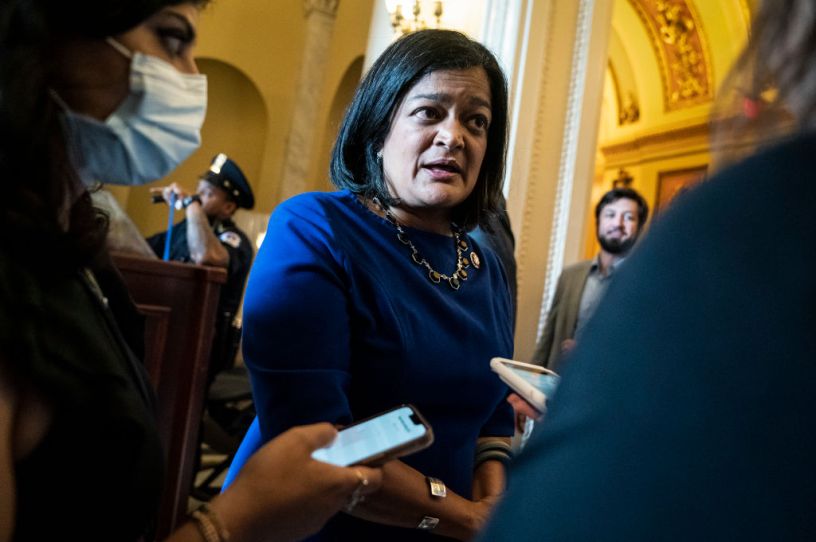 Rep. Pramila Jayapal speaks with reporters after a vote on Capitol Hill. (Photo by Jabin Botsford/The Washington Post via Getty Images)
UPDATE: Congressional Progressive Caucus chair Pramila Jayapal announced Tuesday afternoon that members were retracting their letter calling for the Biden administration to negotiate for a ceasefire in Ukraine. The group faced backlash from Democratic lawmakers and criticism from members who signed the letter over the summer but did not agree with the timing of its release. In a statement, Jayapal lamented the letter's conflation with recent Republican statements questioning future aid to Ukraine, saying it had created a distraction. Still, she appeared to stand behind the substance of the letter.
The upcoming Congress may bring new scrutiny to America's response to Russia's war in Ukraine, regardless of which party picks up more seats in November.
Last week, House GOP Leader Kevin McCarthy predicted new Ukraine aid will be more difficult to pass in a Republican House than the current Democratic Congress. This week, 30 Democrats are pressing the White House to seek a negotiated end to the war, including through direct diplomacy with Russia.
Since Russia launched its invasion earlier this year, lawmakers have overwhelmingly backed the Biden administration's supportive stance toward Ukraine, sending weapons and other aid to the Ukrainian military and passing sweeping sanctions to punish Russia. But members of both parties are now more urgently looking for an off-ramp to the brutal conflict that has caused thousands of deaths, displaced millions of people, and strained global energy supplies.