The Debate That Could Push Pennsylvania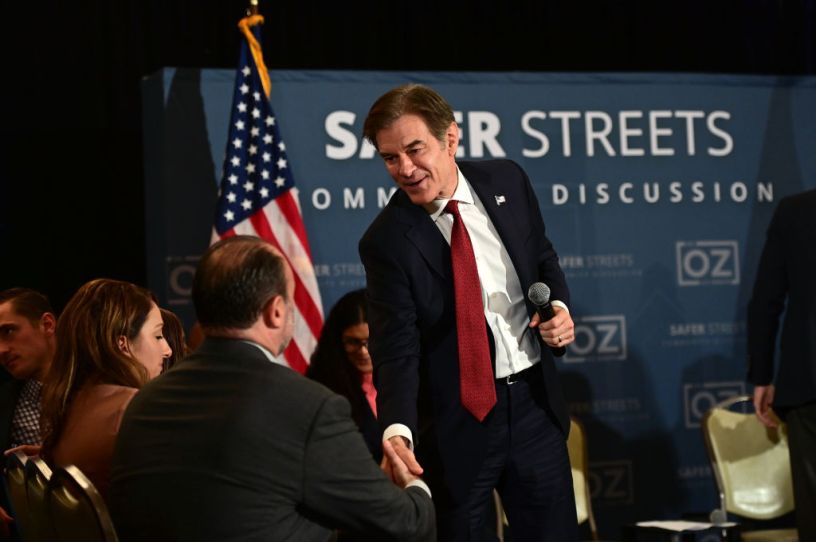 Republican U.S. Senate candidate Dr. Mehmet Oz greets supporters following a community discussion in Philadelphia (Photo by Mark Makela/Getty Images)
It has long been clear that control of the U.S. Senate could come down to the race in Pennsylvania. With Republican Mehmet Oz surging—and lingering questions about Democrat John Fetterman's health—Tuesday's night's debate is shaping up to be a key moment in that key race.
Oz now trails Fetterman by 1-2 points in most polls. A month ago, the Republican lagged Fetterman by roughly 8 points, according to FiveThirtyEight's polling average. With the race a toss-up, a poor debate performance so close to Election Day could affect the news cycle even if viewership is low and with early voting already underway.
Fetterman, is expected to zero in on Oz's celebrity television background and new reporting from Rolling Stone that claims former President Donald Trump plans to contest Republican midterm losses. Abortion is another lightning rod in the race: Oz identifies as "strongly pro-life" but supports exceptions for rape and incest, while Fetterman has said repeatedly that he opposes abortion restrictions of any kind at any point in the pregnancy.
Throughout the campaign, Fetterman has characterized Oz as a rich carpetbagger from New Jersey who is out-of-touch with working-class voters. In recent months, though, rising crime has become a central talking point in the race. Oz, whose campaign has called Fetterman the "most pro-murderer candidate in America," points to the Democratic's previous tenure on the board of pardons as a warning to voters that the Democrat will be soft on crime.