The Coming Debt Ceiling Standoff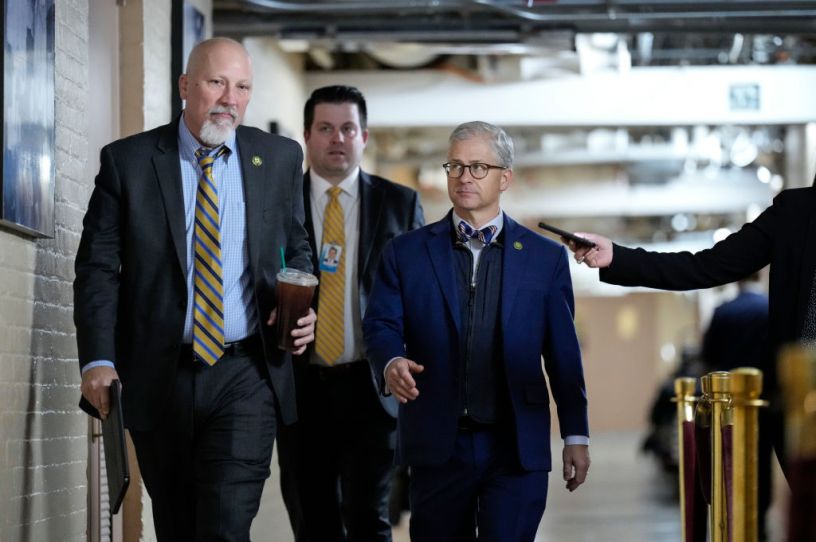 Rep. Chip Roy and Rep. Patrick McHenry walk to a closed-door GOP caucus meeting at the U.S. Capitol. (Photo by Drew Angerer/Getty Images)
The United States hit its debt ceiling Thursday, but lawmakers still have a few months to avoid a default thanks to the Treasury Department's stopgap measures. The problem:  Members of Congress still aren't sure how they'll get to a resolution.
Republican lawmakers want to rein in future government spending as part of a deal to raise the current $31.4 trillion borrowing limit, but they don't agree on what they should demand in negotiations with Democrats. Some want to go all-out: The stakes are high, but the debt ceiling deadline represents one of the GOP House's few opportunities to win concessions from the Democratic Senate and Biden administration. Others recognize there will have to be some compromise in a divided government.
The coming showdown elevates the risk of a historic default, which would likely upend the global economy. (A 2011 standoff over the debt limit prompted S&P to downgrade the U.S.'s credit rating.) It may also threaten newly elected House Speaker Kevin McCarthy's tenure.
Republicans like Rep. Andy Biggs say they will oppose any kind of debt ceiling increase or suspension. Some want to see dollar-for-dollar cuts matching the amount by which the debt ceiling is raised. Others, such as Rep. Chip Roy of Texas, have said they want a balanced budget within a decade. As my colleagues at The Morning Dispatch noted earlier this week, that would take roughly $11 trillion in savings to pull off. That's a huge cut Democrats won't be willing to sign onto—leading other Republicans to cast doubt on the prospect.
Get every newsletter and all of The Dispatch. Support quality, fact-based journalism.
Start Your Free Trial
ALREADY A PAID SUBSCRIBER? SIGN IN