Will New Speaker Mike Johnson Actually Decentralize Power in the House?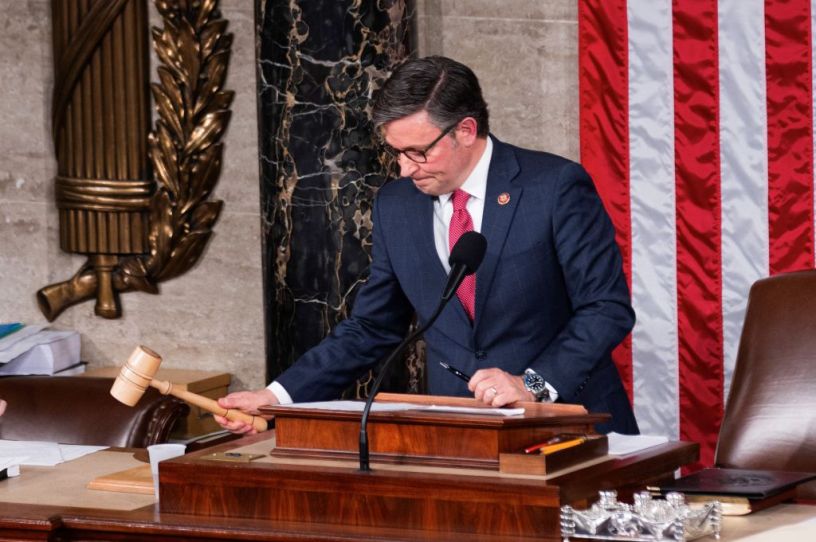 Newly elected House Speaker Mike Johnson holds the gavel on Oct. 25, 2023. (Photo by Aaron Schwartz/Xinhua via Getty Images)
Right after winning the gavel this week, newly installed House Speaker Mike Johnson made the same promises his recent predecessors made about how he'll perform his duties. "The job of the speaker of the House is to serve the whole body, and I will," he said in remarks after his victory on Wednesday. "I've made a commitment to my colleagues here that this speaker's office is going to be known for decentralizing the power here. My office is going to be known for members being more involved and having more influence in our processes, in all the major decisions that are made here, for predictable processes, and regular order. We owe that to the people."
The speech was likely music to some rank-and-file members' ears—but a song they've heard before, too. Several recent speakers made similar pledges upon ascending to the role, but they ultimately failed to follow through. Legislating is messy—particularly in this increasingly polarized Congress—and speaker after speaker has proven unable to resist wielding the immense power the office has accumulated in recent decades to pass bills faster and with more of their conferences' backing.