When Public Opinion Is Irrelevant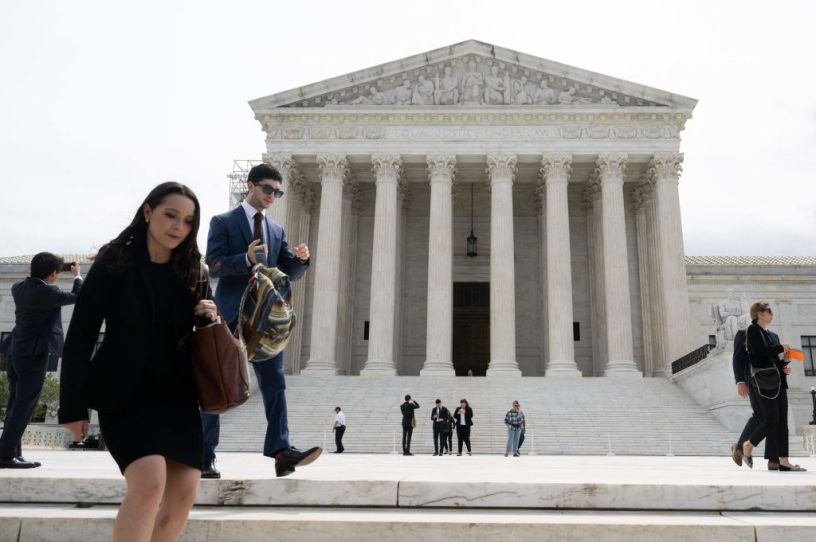 People exit the Supreme Court in Washington, D.C., June 16, 2023. (Photo by SAUL Loeb/AFP/Getty Images)
About the Supreme Court, the New York Times wants to know "whether the court's decisions are out of step with public opinion." Here is the answer to that question:
It does not matter.
The law says what the law says. The job of the Supreme Court is to apply the law, not to make up the law, not to reform the law, not to ensure that the law accords with public opinion. If public opinion is opposed to the law, then the public can elect new lawmakers and write new laws. It is not up to the Supreme Court to do that for them. If representative democracy means anything, it is that the law is made by lawmakers who are elected by the people and democratically accountable to them.
Not that the New York Times-reading progressive public actually cares what public opinion says. Our progressive friends have been perfectly happy to use the Supreme Court to overrule public opinion—and the law—for years, as long as doing so meant they got their way without having to win legislative elections and pass new laws. Public opinion was not in favor of the abortion regime that Roe began to impose in 1973—nor did public opinion favor that regime thereafter—but nobody worried very much about that. The same with same-sex marriage and Obergefell and many other "social issues" decisions. Most Americans believe that athletes should be required to compete on the basis of biological sex rather than gender self-identification, but don't expect to see any demands that we defer to public opinion when that comes in front of the court.
Get every newsletter and all of The Dispatch. Support quality, fact-based journalism.
Start Your Free Trial
ALREADY A PAID SUBSCRIBER? SIGN IN