Our Best Stuff from the Week We Hit the Debt Ceiling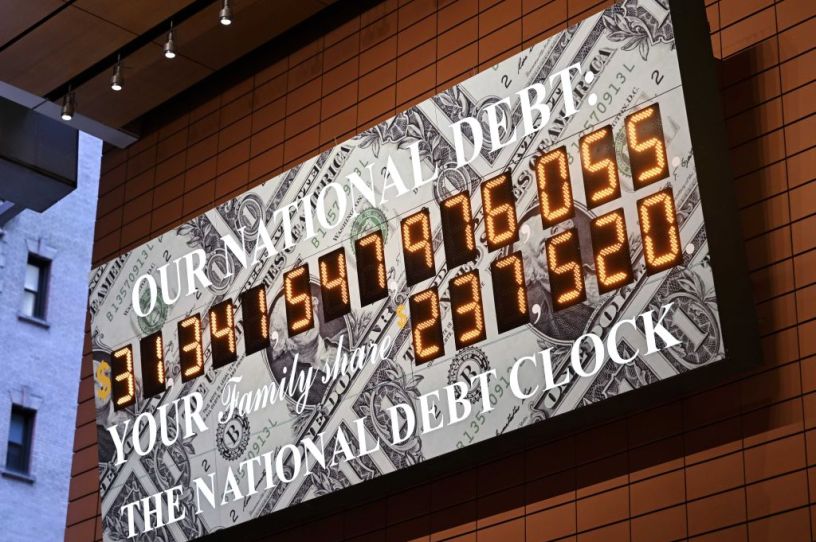 The national debt clock. (Photo by Fatih Aktas/Anadolu Agency/Getty Images)
Hello and happy Sunday! This is going to be a short one, as preparations are under way in the Ohio bureau for the big game between the Bengals and the Bills. I've gotta say, it feels a little strange.
It's plenty easy to get excited about the Bengals. They've got a young and dynamic team led by Ohio native Joe Burrow and his former college teammate, Ja'Marr Chase. Their young and dynamic coach, Zac Taylor, has become beloved for taking the Bengals to the Super Bowl last year—and for embracing the community. After every playoff win, he autographs a half-dozen footballs and takes them around town to various bars and restaurants that cater to Bengals fans.
Normally, though, when you play a big rival or playoff game, you get an extra boost from your animosity for your opponent. Here in Cincinnati, we have a particular distaste for the Pittsburgh Steelers and the Baltimore Ravens. We like to make jokes about the Kansas City Chiefs, an immensely talented team that has never beaten Burrow. But this week? Well … it's the Bills. Even if you're not a sports fan, you're probably aware of what happened the last time these teams met. It was a Monday Night Football game three weeks ago, and the NFL and ESPN had been hyping it for weeks. Both teams were challenging the Chiefs for the top seed in the AFC bracket and the implications were immense. Until they weren't.
The game was still in the first quarter when Bills defensive back Damar Hamlin went into cardiac arrest and collapsed. Quick work by the Bills medical staff revived him, and he was taken to the University of Cincinnati Medical Center, where he received more lifesaving care. After two very quiet and uncertain days with no updates—Hamlin had been sedated to allow him to heal—he woke up. It's been a feel-good story ever since. His recovery has been remarkable, and Bengals and Bills fans came together not only to support Hamlin but also Bengals receiver Tee Higgins, who Hamlin had tackled before he collapsed. There had been speculation that Hamlin's cardiac arrest happened as a result of the play, and Higgins was wracked with guilt. Yet Hamlin's family and Bills fans spoke out in his defense. It all became a bit of a love fest.
Get every newsletter and all of The Dispatch. Support quality, fact-based journalism.
Get Started
ALREADY HAVE AN ACCOUNT? SIGN IN