Our Best Stuff From the Week We Marked One Year of War in Ukraine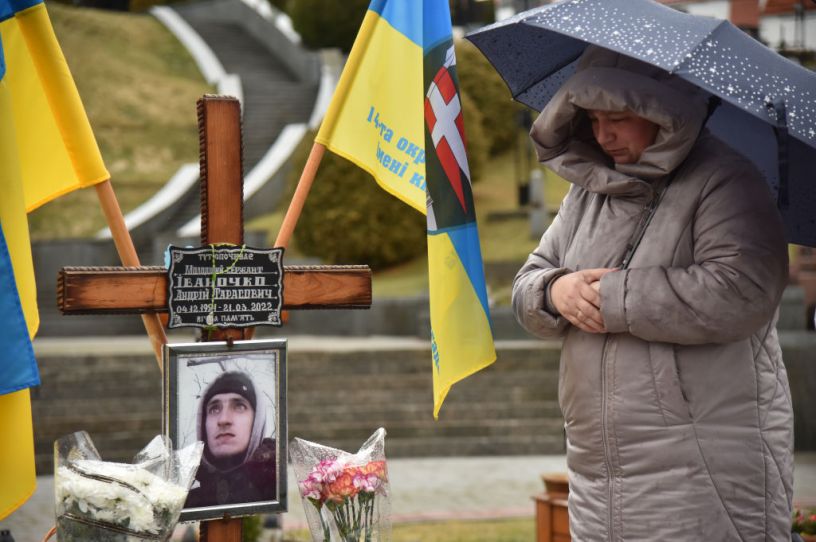 A woman cries during a prayer near the graves of Ukrainian soldiers killed in the Russian-Ukrainian war at the Lychakiv Cemetery in Lviv, Ukraine on February 25, 2023. (Photo by Pavlo Palamarchuk/Anadolu Agency/Getty Images)
Hello and happy Saturday. I don't know what your plans for the weekend look like, but here in the Ohio bureau, baseball season is starting up (officially, that is—unofficially it's pretty much a year-round thing) so the kids have practice. We need to hit the grocery store, there's laundry to fold, and we're hoping to get some quality family time by going to see Cocaine Bear.
That sounds mundane—and I hope that many of you have more interesting or at least more highbrow cultural plans. But I'm also feeling pretty grateful that we can do such things with ease. So many can't. Yesterday marked the one-year anniversary of Russia's war in Ukraine, a conflict that has killed tens, if not hundreds, of thousands and displaced millions. People have lost their homes to Russian missile strikes, and too many Ukrainian children have died, been orphaned, or spirited away into Russia in violation of the U.N. Genocide Convention. 
We see the horrific images and hear the horrifying stories daily, but even after a year, it sometimes seems unfathomable. Yet the people who are living through it are doing so with incredible bravery and resolve.
And it's not just Ukraine. Turkey and Syria are still dealing with the aftermath of a devastating earthquake. The Taliban is making life harder on Afghan women by the day. There's far too much violence and ugliness in this world.