The East Palestine Blame Game
Happy Friday! Ben, an Andean bear at the St. Louis Zoo, busted out of his habitat yesterday for the second time this month, only to be found and tranquilized a few hours later. Give the guy a break—he was clearly just trying to support his friend from theater camp by going to see his new movie on opening night.
Quick Hits: Today's Top Stories
Sifting Through the Noise in East Palestine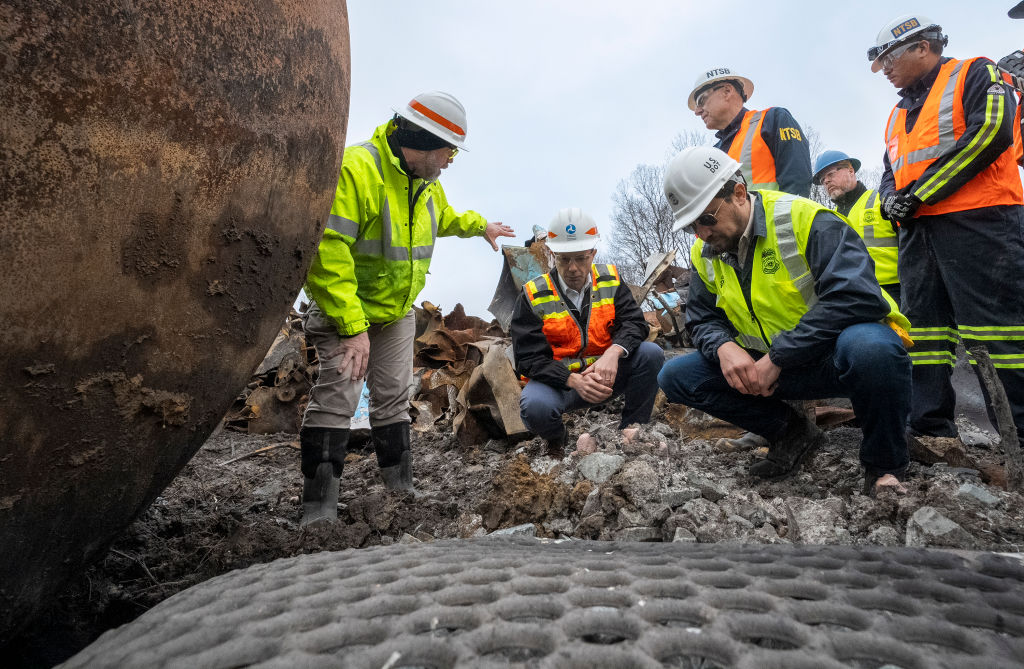 At a Tuesday roundtable in East Palestine, Ohio, a train whistle threatened to drown out Environmental Protection Agency Administrator Michael Regan as he explained the official response to the derailment of a Norfolk Southern train earlier this month and resulting toxic chemical spill. As residents began to run through concerns—an 8-year-old child coughing constantly, a deli losing business because no one wants to buy chicken that smells of butyl acrylate—a train rattled along the tracks.
Since we last wrote to you about the February 3 derailment a week and a half ago, frustrations over the spill and controlled burn of toxic chemicals have only grown—as have political pot-shots and calls for regulatory changes only marginally connected to the actual accident. While Republican lawmakers and the Biden administration trade barbs over each others' track records on railway regulation, East Palestine residents are still navigating the spill's fallout.
In 2021, according to the Federal Railroad Administration, trains operated by the seven major freight railroads derailed 868 times—but most of these accidents occur in rail yards where they don't make headlines. Though 868 derailments in one year may sound like a lot, the figure represents a marked improvement from the late 20th century: According to federal data analyzed by the Eno Center for Transportation, rail safety incidents have dropped 60 percent since 1990. Plus, when it comes to transmitting hazardous material, trains are far safer than the primary alternative. Trucks carry a little more than twice as much hazardous material as trains per ton-mile, but there were 22,000 hazmat-related incidents on highways in 2021 and just 378 along railways. Since 2010, highway-related hazmat accidents have killed 103 people, while rail-related accidents have killed one.
Get every newsletter and all of The Dispatch. Support quality, fact-based journalism.
Start Your Free Trial
ALREADY A PAID SUBSCRIBER? SIGN IN